This page may contain affiliate links to places like eBay and other online retailers. If you buy from a link, we may earn a small commission. Learn more.
It's no secret, Pokemon card values have skyrocketed this year.
A combination of…
People being stuck inside during lockdown
Mainstream and celebrity entrants into the hobby
And an emphasis on mental health and doing what makes you happy
…mean Pokemon cards are as popular as ever!
But with that greater demand, comes prize increases of course.
So in this article we are going to look at the most valuable Pokemon cards of 2020.
All cards listed are based on actual auction sales.
Let's get started!
What Are The Most Valuable Pokemon Cards?
1999 1st Edition Base Set Charizard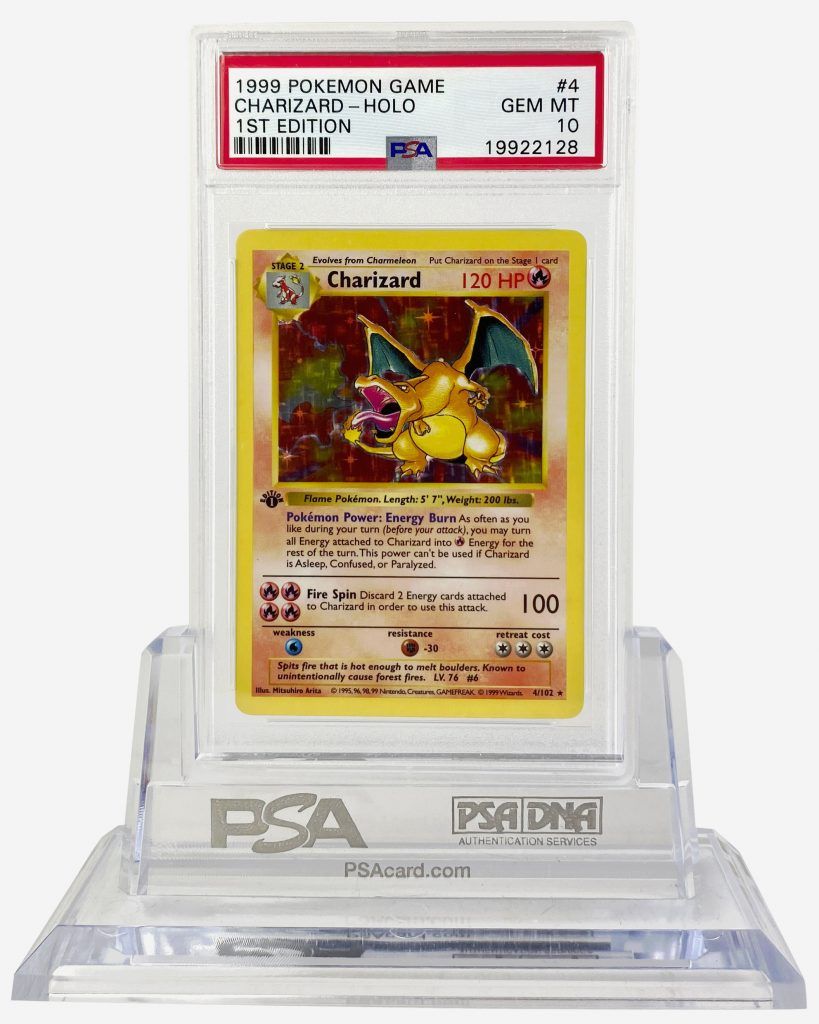 On 10th October 2020, rapper Logic smashed records by acquiring a 1st Edition Base Set Charizard PSA 10 for $220k. This is by far the most valuable Pokemon card purchased this year.
He expressed the following on his Instagram:
"When I was a kid I absolutely loved Pokémon but couldn't afford the cards," Logic wrote on Instagram. "I remember even trying to trade food stamps for theirs and now as an adult who has saved every penny he has made being able to enjoy something that I've loved since childhood now as a grown man is like buying back a piece of something I could never have, it's not about the material it's about the experience."
However eye-watering the figure might be, his story is exactly rediscovering Pokemon cards is all about; nostalgia, happiness, and getting to relive your childhood again.
2010 World Championship Master Key Trophy Card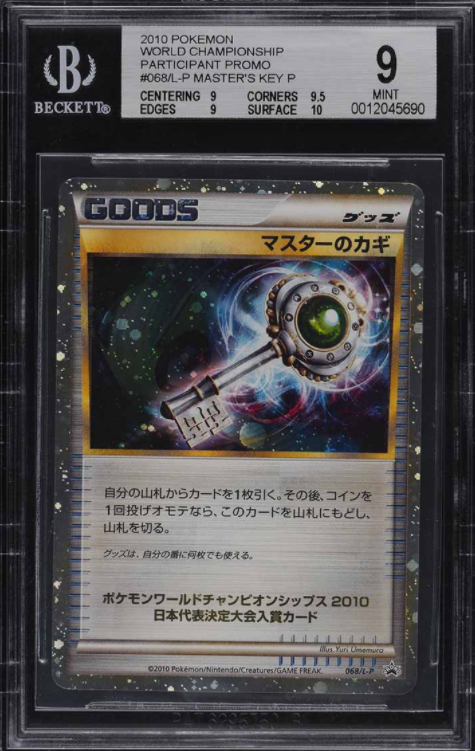 We often forget that what we're collecting is a playable game, but the World Pokemon Championships are a big deal.
Only thirty-six competitors participated 2010's Hawaii-based tournament and they each received this beautiful holographic Trophy Card, sealed inside a special case.
Because of its rarity, it's no surprise then that a Beckett 9 version of the card sold for a whopping $26.9k earlier this year.
2005 Japanese Promo Summer Battle Road Holo Victory Orb Trophy Card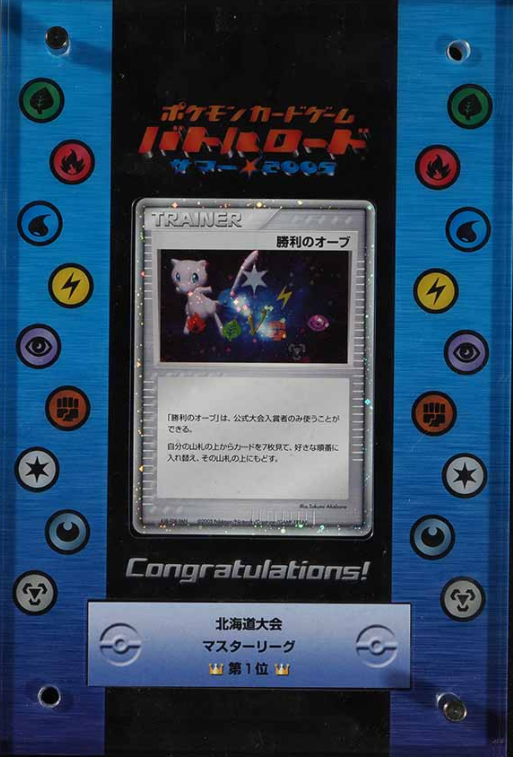 Next on our list is another trophy card, this time from the Battle Road 2005 tournament that took place across nine different Japanese cities. This exclusive card was only issued to the top three competitors from each age division; with just 162 copies awarded in total.
The artwork by Takumi Akabane was seen as a visual upgrade from previous years, featuring a holographic mew and various energy symbols.
In August 2020, one of these beauties sold at auction, and although ungraded, it was encapsulated in its original trophy case, further enhancing its rarity. The price? $22.1k.
1999 Japanese Tropical Mega Battle Finals Prize Tropical Wind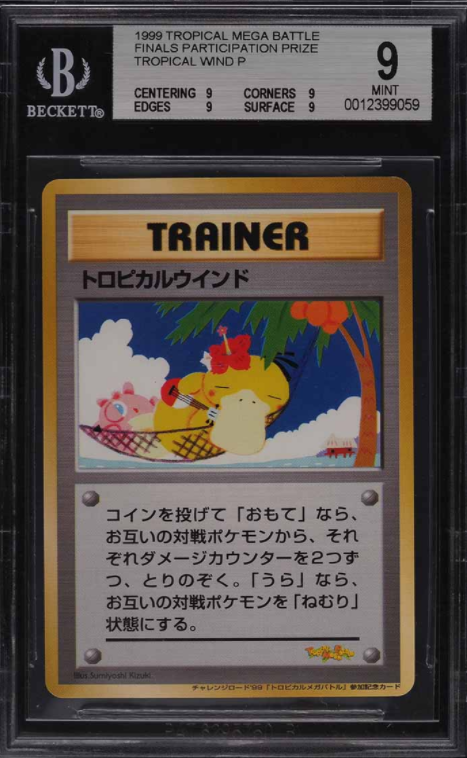 Continuing with trophy cards, we now have an incredibly rare example from the inaugural Championship tournament that took place in Hawaii in 1999.
From only 50 players that were invited to the tournament, this card was only issued to the final's participants. It is widely regarded as one of the most important Pokemon cards ever made, as it represents the beginning of the franchise we know and love today.
This remarkable card sold earlier this year for a well-deserving $20.1k. It is Beckett 9; the highest graded in existence with a population of just 1!
2005 EX Deoxys Gold Star Holo Rayquaza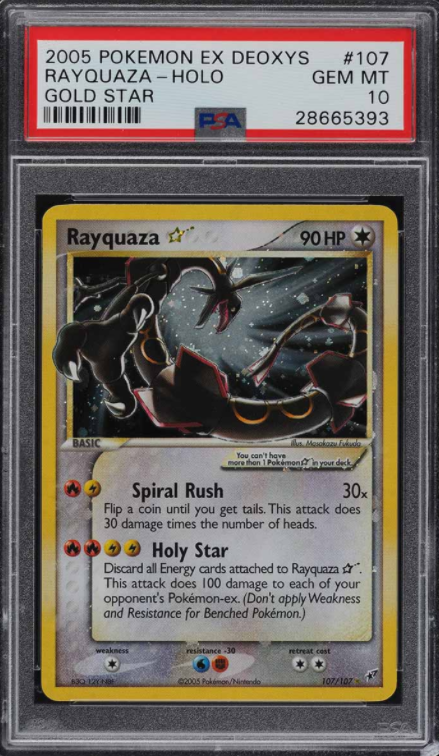 The next card belongs to the EX Deoxys set of the EX Ruby & Sapphire Series from 2005.
Of the 108 set, just three cards contain a special gold star next to the Pokemon's name in the top left corner of the card: Latias, Latios, and this card, the Rayquaza.
Incredibly, the pull rates on these gold star cards are said to be just 1 in 72 booster boxes! And with only 45 PSA GEM MINT 10 cards in existence, it's no surprise one of them sold for $19.1k earlier this year.
1998 Japanese University Magikarp Trophy Card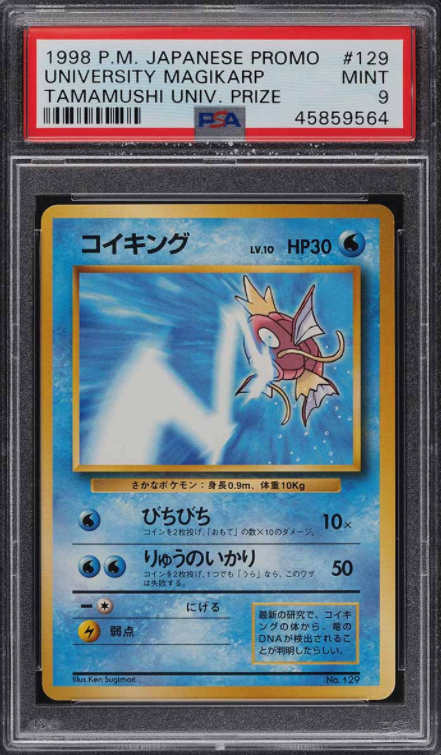 Let's face it, most Magikarp cards aren't worth that much! But this unique card is the most valuable Magikarp card in existence.
In 1998, primary school aged kids entered a competition, where if they passed a series of questions, were invited to a two-day event called 'The Tamamushi University Hyper Test' in Osaka, Japan. The winners of each age group were awarded with this 'University Magikarp' card.
1,000 copies of the card were ear-marked, but the actual number produced is unknown.
Highly coveted, a PSA MINT 9 version of the card sold earlier this year for $17.5k.
2016 20th Anniversary 24K Gold Ginza Tanaka Japanese Pikachu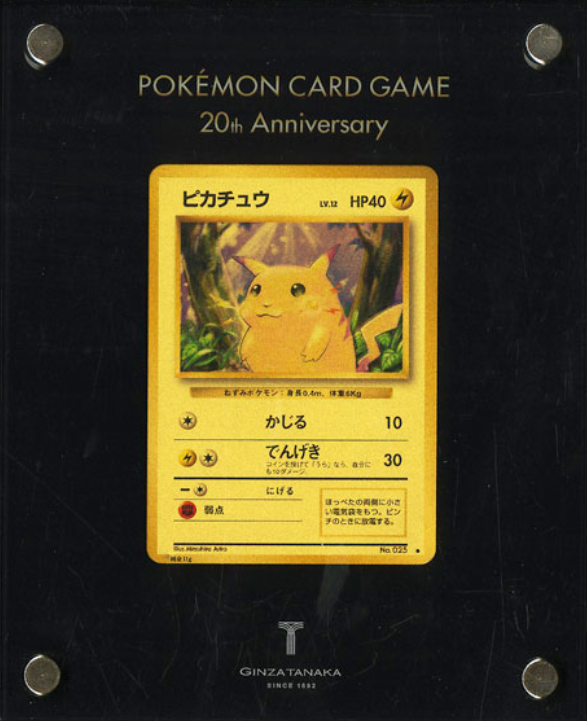 Concluding our list is a card from just four years ago. But it's well worth its weight in gold. Literally!
This Pikachu card is made from 24-Karat gold and was produced to commemorate the partnership between The Pokemon Company and the Japanese jeweller Ginza Tanaka.
With a limited pre-order period of just twenty days, and a price tag of $2,100 this highly exclusive card was hard to get your hands on.
Outperforming the precious metal market by quite some way, this gold Pikachu sold earlier this year for a whopping $12.6k. Not a bad return on your investment, right?!
The Value of Pokemon Cards Predicted to Keep Rising
So there you have it, seven of the most valuable Pokemon cards sold this year.
Combined they make a whopping $356.9k!
It's safe to say, Pokemon cards play in the big leagues, and you need one hell of a bank roll to get in at the high end.
And with regard to the future?
Increased demand + less supply = predicted price rises
Something tells me 2021 is going to be even more crazy!