This page may contain affiliate links to places like eBay and other online retailers. If you buy from a link, we may earn a small commission. Learn more.
Pikachu Illustrator: Everything You Need to Know
If you hadn't ever heard of the Pikachu Illustrator card before Logan Paul's epic WWE Wrestlemania 38 entrance, he certainly changed all of that.
Whether you love or hate him, you've got to give him credit for putting the rarest Pokemon card in existence on the global stage like that.
So if you want to learn more the most expensive Pokemon card in the world, read on as I answer the most popular questions as best I can!
View this post on Instagram
How Much is Pikachu Illustrator Worth?
Let's get straight into the value of Pikachu Illustrator cards.
Logan Paul purchased the only PSA 10 in existence for $5,275,000. This was comprised of the same card in a PSA 9 that he owned plus an additional $4,000,000 [Source].
This of course gives us a PSA 9 valuation of $1,275,000 based on that sale, and there was also a fairly recent sale in 2021 of a PSA 7 for $375,000 [Source].
Steve Aoki also purchased a raw Pikachu Illustrator card in 2021 for $420,000, which subsequently graded a PSA 9 [Source].
How Many Pikachu Illustrator Cards Are There?
There are 39 copies of the Pikachu Illustrator card known to be in existence. 24 of them have been graded at PSA [Source].

What Did You Have to Do to Get Pikachu Illustrator Card?
In the late 90's, CoroCoro comics, one of Japan's most popular and longest running comics ran competitions for readers to design their own Pokemon card.
Winners of the competition received the Pikachu Illustrator Promo Card as their prize, along with 20 copies of their own design.
What Does Pikachu Illustrator Look Like?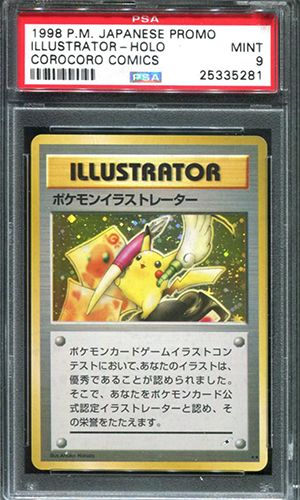 The design of the Holographic Pikachu Illustrator card was drawn by artist Atsuko Nishida, who was the original designer of Pikachu.
It's the only card with 'ILLUSTRATOR' written across the top instead of 'TRAINER'.
It's also the only card with a pen symbol in the bottom right hand corner.
And just to really enhance it's rarity, it's one of the only Pokemon cards with a double-star rarity symbol in the bottom right-hand corner.
What Does The Pikachu Illustrator Card Say in English?
The Japanese text across the middle of the card translates as follows:
We certify that your illustration is an excellent entry in the Pokemon Card Game Illustration Contest. Therefore, we state that you are an Officially Authorized Pokemon Card Illustrator and admire your skill.
Wrapping Up
So there you have it, a quick run down to help you learn the backstory and what makes the Pikachu Illstruator promo card so rare.
And if you're keen to learn more about similar cards, make sure you check out my article on the Top 10 Rarest Pokemon Cards of All Time!
Thanks for visiting 🙂