This page may contain affiliate links to places like eBay and other online retailers. If you buy from a link, we may earn a small commission. Learn more.
Here Are My Best Pokemon Card Display Ideas
Whether your Pokemon cards are graded, raw, or in binders, it's a shame if you can't regularly appreciate them for their brilliant artwork.
So often collectors will keep beautiful cards tucked away in a draw or under the bed!
In this article, I'm going to share with you some of my best Pokemon display ideas which will hopefully give you a bit of inspiration.
1. Pokemon Card Display Frames
Below is one of my most prized Pokemon possessions!
It contains complete all the cards from Base Set, Jungle, Fossil and three Black Star Promo cards on the end to fill the last few spaces!
View this post on Instagram
Here's how I made it:
I ordered a custom frame ( X Length x X Width)

Then I put all the cards in penny sleeves

I then glued the penny sleeves to the frame backboard (don't glue your cards directly, you'll regret it!)
…Several hours later…
I put it all together and hung it on the wall in my office!
Now I get to appreciate all those nostalgic cards every day – cool ay?!
2. Graded Pokemon Card Display Frames
Next up is a piece that I absolutely love.
This is a made-to-order display that I purchased from CollectorDisplays on Etsy.
You can request different shapes and layouts, and Steve the store owner will design it and get it created for you.
The 2000 Team Rocket set is my favourite of all time, and this is the perfect way to showcase all 18 holographic cards!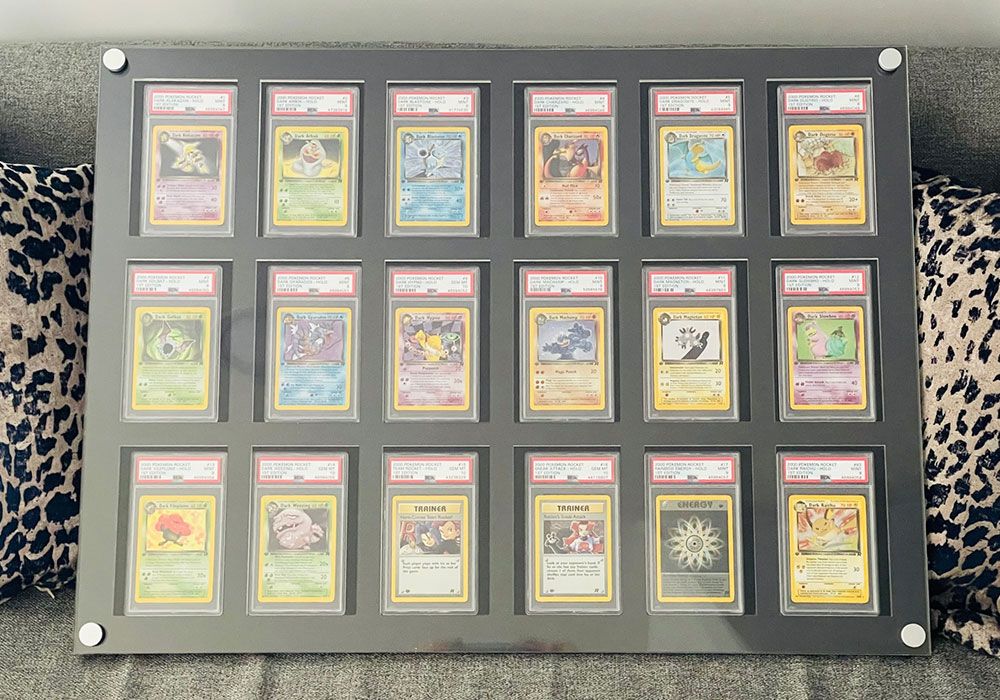 3. PSA Pokemon Card Stands
Now this is a project I've been working on for months.
As a collector, I was looking for an affordable, yet smart stand for my PSA cards.
All I could find were gimmicky 3D printed ones, that never really held the card properly – they would always tint forward so you couldn't see the artwork very well.
So, I decided to create my own!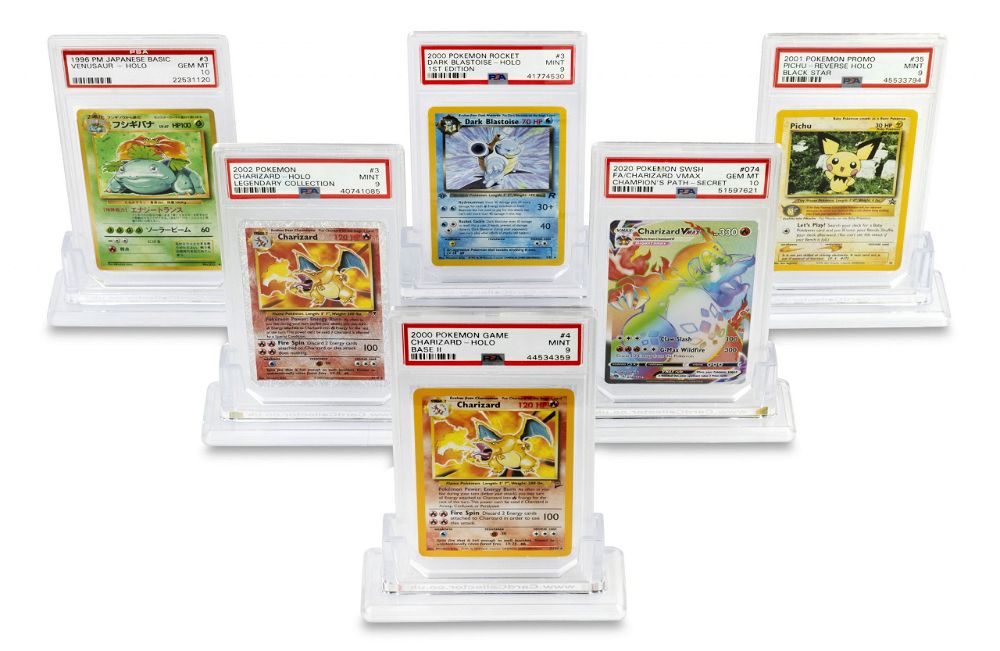 A lot of thought has gone in to the design and manufacturing; everything from the crystal clear polished surface to the small notches that help the card tilt backwards slightly for better visibility.
It's a product that I'm really proud of, solves my own problem and I hope gives you an affordable option to display your Pokemon cards beautifully on a shelf or desk.
4. Pokemon Card Display Cabinet
If you're looking for something a bit more high-end to showcase your collection, then a glass display cabinet is a real statement piece.
I got the one below from IKEA and actually use it to display all my retro artifacts!
From Pokemon to Pogs, it pays homage to a golden generation of cards and games.
View this post on Instagram
5. Graded Pokemon Card Security Cases
I'm well aware that not all cards can go on display, especially if they're very valuable.
The case below is not only lockable, but fireproof too. Each card has it's own slot and is protected by the high-grade foam inserts.
What's nice though is that you still get that wow-factor when you open it up, and there's just enough room to read the PSA label and eject the card you want.
A smart solution to protect your valuable cards in my opinion.
View this post on Instagram
Available for purchase soon!
If you've got some different, I'd love to see and showcase your display on this page!
Simply, post the photo on Instagram and share the link with me 🙂
6. PSA Pokemon Card Display Holder
Now this I think is really cool!
It's a 3D printed display box that not only stores PSA graded cards inside, but also lets you showcase a card on each of four sides.
They're made to order and can be purchased here.
View this post on Instagram