This page may contain affiliate links to places like eBay and other online retailers. If you buy from a link, we may earn a small commission. Learn more.
What is Pokemon Card Grading?
Pokemon card grading is the process of getting the condition of your cards evaluated.
The better the condition, the higher the 'grade' they'll get, which is typically a numerical score out of 10.
Pokemon Card Grading Scale
There are four key factors that effect the grade of your Pokemon cards:
1. Centering
This refers to how well centered the artwork on the card is. Grading services tend to be stricter with centering on the front of the card, compared to the back. They will also work off certain centering ratios to determine the grade of the card.
2. Corners
This refers to the condition of the corners. Anything like whitening, nicks, or unsymmetrical cutting can affect the grade of a card.
3. Edges
This refers to the condition of the edges of the card. Again, whitening, nicks and edgewear can affect the grade.
4. Surface
This refers to the condition of the surface of the card. Scratches, nicks print lines and even holographic bleed can affect the grade.
Pokemon Card Grading Companies
There are three established Pokemon card grading services that are widely accepted among collectors.
Note: All of these companies are based in the US.
PSA – The most popular company for grading Pokemon cards
Beckett – Widely respected in the community for their graded card design and the ability to get 'subgrades' on your cards
CGC – Has a long history in grading comic books, and has naturally transitioned to Pokemon cards in recent years
Update September 2021 – PSA have been working over the past year to tackle their huge backlog of cards to be graded. As of September 2021 they are grading over 35,000 cards per day, however their biggest submission day of 2021 was noted to be over 600,000 cards. That's right, all in just one day!
In July, they were able to open up their most expensive service for 'Express Grading' which cost $200 per card. In their latest update they have dropped the price of this to $150 per card. It's a very small step in the right direction, but reinstating their more cost-effective tiers still feels a long way off.
Here are links to their previous customer updates:
As of June 7th 2021, Beckett also suspended their grading services to tackle their growing backlog.
CGC also have significant wait times. Read more here.
PSA Pokemon Card Grading Scale
PSA run a simple grading scale from a 'Poor 1' to a 'GEM MINT 10'. Details of their process can be found here.
Beckett Pokemon Card Grading Scale
Beckett has a more in-depth process, giving subgrades for the four key factors mentioned above. Their range runs from a 'Poor 1' to a 'Pristine 10'.
Interestingly, they also have an elite level above that called a 'Black Label Pristine 10' for cards that score 10 for all the subgrades. As you can imagine, these cards are highly sought-after and valuable.
See here for more info on grading your Pokemon cards with Beckett.
CGC Pokemon Card Grading Scale
CGC run a similar grading scale to Beckett going all the way from a 'Poor 1' to a 'Pristine 10'. They also include subgrades on their cards. You can see their scale here.
How to Grade Pokemon Cards With PSA if You Live in the UK
As PSA is based in the US, international shipping can be an expensive and uncertain path for UK-based collectors.
Unfortunately, a very well trusted service here in the UK called Graded Gem, has ceased their relationship with PSA.
However there is another trusted company called Ludkins Collectables that although remain closed for submissions, hopefully when PSA reinstate cheaper tier levels, they will open again too.
What to Expect From a PSA Return
When your cards finally come back, it's really quite a rush!
Discovering the grades help you to identify the value of your cards, and whether you're building a collection, or putting them up for sale, it means you take action!
Here is a recent PSA return of mine – check out these crazy grades…!
Alternatives For Grading Pokemon Cards in the UK
As demand for PSA, Beckett and CGC shot up massively this past year, the desire for alternative Pokemon card grading services increased.
People wanted their graded encapsulated quickly, cost-effectively and locally.
Now I want to take this opportunity to say a massive shout-out to their entrepreneurs who took a risk, started their own grading companies and have a strong desire to serve the Pokemon community.
But, the big players have taken years to build their reputation among collectors, so this begs the question…
Should you wait for the likes of PSA, Beckett & CGC to reopen and speed up – or should you try these new grading companies that have sprouted up?
Here's my take…
When to Hold Out For The Bigger Companies to Open
You have vintage Pokemon cards in near mint or better condition – even more so if Holographic, 1st Edition, Error Cards, or rare Promos.
Previous cards have sold for a considerable amount of money (when graded by PSA, Beckett or CGC) – the same card graded by a lesser known company won't be as valuable.
You have a valuable card and you're not looking for flip it quickly.
When to Try a New Grading Company
You want to protect your cards by encapsulating them.
You don't want to have to wait months or years to get them back.
You don't want to send them abroad – there are plenty of new grading companies here in the UK.
You're looking to sell the card straight after grading – again they won't be as valuable compared to the established grading companies, but if the grade comes back a 9 or a 10, you could still potentially cash in for a profit.
Ultimately, it comes down to you as a collector. If you like the idea of simply having your cards graded, protected and scored, then absolutely go for it and try these new companies.
But if you have cards that have high potential value, then I'd probably wait.
It is also worth noting, that you can grade your cards with these new companies, and then get them regraded with another company down the line.
Who is The Best Pokemon Grading Company in the UK?!
I've spent a considerable amount of time and money grading cards with as many of the "new UK grading companies" as I could.
I wanted to get a feel for:
Customer Service – How good their communication was, and their ability to solve customer problems
Grading consistency – How accurately they kept to their own grading standards
Grading Transparency – Why a card got the Grade it did
Slab and label design – How much thought has gone into the design process
Turnaround times – Did they stick to the times they advertised
Resale Values – Despite being new to the market, do they have the potential to add value to your cards
After much deliberation, my number one recommended UK Pokemon card grading company is…
*Drumroll please*
…and these are the reasons…
They give subgrades and even a grading report – this means there is full transparency as to why a card got the grade it did
They have two tiers of their 10 grade (ALPHA 10 and BRAVO 10) – an ALPHA 10 is the equivalent of Beckett's Black Label cards or CGC's Pristine 10s. These so-called 'perfect cards' add an extra layer of rarity, thus increasing their potential value
Their slab designs are understated, yet classy – it's all about the card, not the slab, and I feel that other grading companies have failed to realise this
Communication was good and turnaround times were met – that's all you can ask for really!
In this piece I'm not going to go into what I believe to be the shortcomings of other companies, it's merely to provide you with my opinion on where you should grade your Pokemon cards in the UK.
I'm sending my cards to Tree Frog Grading, and I think fellow collectors would be happy with the results should they do the same 🙂
How Long Does Pokemon Card Grading Take?
This past year has seen unprecedented demand for Pokemon card grading services. As such wait times have never been longer.
Expect to wait over a year for the likes of PSA and Beckett. I'd expect CGC to be multiple months. But of course, these new grading companies can do it in a matter of weeks or even days.
Personally I believe the best view to take is that you are encapsulating an investment piece for the future. Try not to worry too much about the wait times 🙂
How to Submit Your Pokemon Cards For Grading
To ensure the safety and integrity of your cards' condition, it's recommended you submit your cards in the following way:
1. Put your card in a penny sleeve
2. Attach a post-it tag to the penny sleeve so it's easy to pull out
3. Finally, put the penny sleeved card inside of a semi-rigid card holder
Important! Do not send cards in a toploader. The card can easily move around and may get damaged.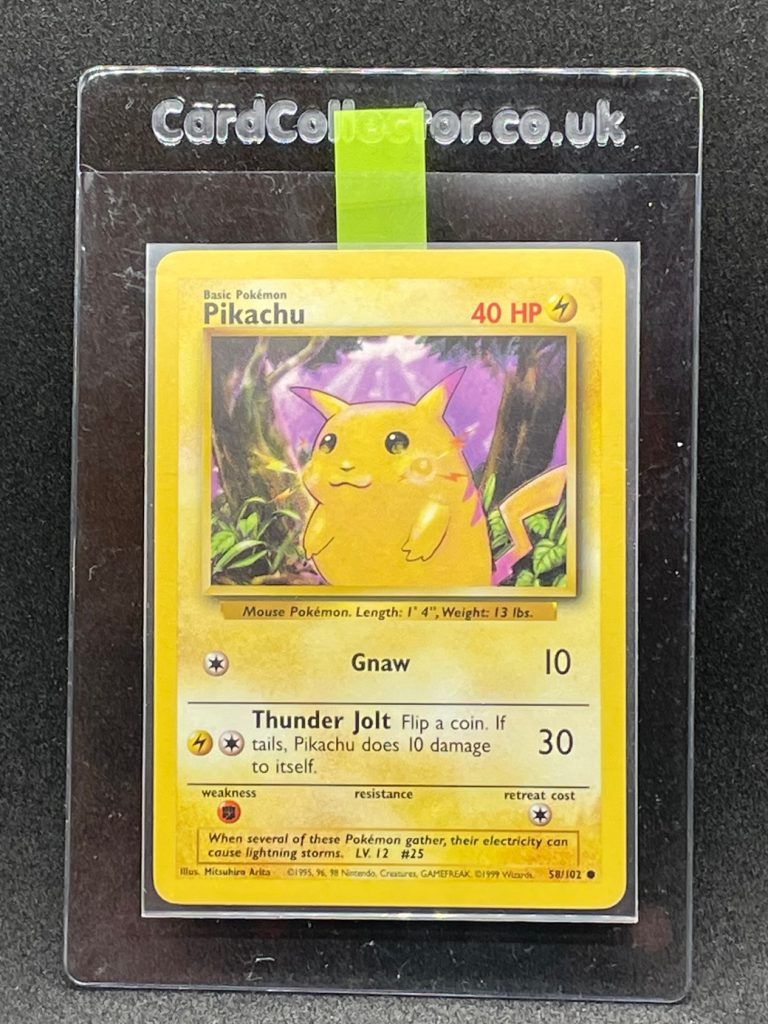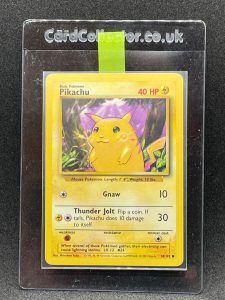 Conclusion: Is it Worth Grading Pokemon Cards
Whether you're looking to increase the value of your cards, or simply protect them, I believe grading Pokemon cards is indeed worth it.
Certainly for older and rarer Pokemon cards, Pokemon card values have increased exponentially in recent times.
By 'locking in' or preserving a card's condition you're giving it the potential to be a sought after piece that many collectors will want to get their hands on.
Grading cards adds another level of rarity, and if you're lucky enough to hold a desirable card, with a top grade, you just might be sitting on a shrewd investment.