This page may contain affiliate links to places like eBay and other online retailers. If you buy from a link, we may earn a small commission. Learn more.
Ancient Mew is one of the most iconic promotional Pokémon cards in history.
Given out at cinemas for Pokémon the Movie 2000 it will forever be associated with the hey-day of Pokémon.
Over twenty years later, you can still find plenty of sealed copies available on eBay, which does beg the question…
How much is Ancient Mew worth?
Well, before we can answer this, let's make a quick distinction on the varieties out there (oh yes, there's more than one!), and then take a deep dive into the graded population reports.
How Many Ancient Mew Varieties Are There?
Across the UK, US and other participating countries Ancient Mew cards were given away during the week of the films release. There is one version of this particular Ancient Mew variety.
However…!
Incredibly, there are 5 different Japanese print runs of Ancient Mew!
The first one is famous because the word Nintendo was misspelled as "Nintedo" in the copyright text at the bottom of the card. Not so much quality control in those days!
Interestingly, they corrected the spelling for the second print run, but because it only ran for a short window, the corrected version is actually much rarer and more valuable.
We then had a third print run where the holofoil design was changed to a 'cosmos' effect, from the speckle effect seen in the previous two.
Then to mark the 20th anniversary of the card in 2019, a fourth print was included in special Mewtwo Strikes Back pamphlets.
And finally, South Korea got the fifth print when the film was released there in 2020.
How Many PSA Graded Ancient Mew Cards are There?
Please note, the populations below were taken at the time of writing. They will of course change on a daily basis! See the links for the latest reports!
If we look at the PSA population for the UK/US printed version, there are A LOT of graded cards!
8,994 total cards graded
4,123 PSA 9s
1,405 PSA 10s
Latest report here.
However, when we dig down into the Japanese versions of Ancient Mew, it tells a very different story…
Ancient Mew – "Nintedo" Error
1,781 total cards graded
1,169 PSA 9s
425 PSA 10s
Ancient Mew – "Nintedo" Error Fixed Variant
802 total cards graded
483 PSA 9s
217 PSA 10s
Ancient Mew – Cosmos Holofoil
3,221 total cards graded
1,501 PSA 9s
1,626 PSA 10s
*Interesting that the Cosmos version of the card seems much easier to graded a PSA 10, compared to the two previous print runs.
Latest report for the three variants above here.
Ancient Mew – 2019 Mewtwo Strikes Back Evolution Movie
350 total cards graded
83 PSA 9s
258 PSA 10s
* Seems easy to grade this card in a PSA 10!
Latest report here.
Ancient Mew – 2020 Korean Promo Mewtwo Strikes Back Evolution Movie
24 total cards graded
9 PSA 9s
9 PSA 10s
Latest report here.
How Much is Ancient Mew Worth?
Now we've done the research, the picture is a lot clearer.
2000 Pokémon Game Movie Ancient Mew (UK/US/Worldwide Version)
Despite having such a large PSA population report, the demand for "our" version of Ancient Mew is pretty decent!
I personally feel there's a lot of nostalgic value built in to these prices, but here's some examples of recently sold Ancient Mews:
PSA 9s tend to go for just under £100…
Here's a PSA 10 that sold for £345…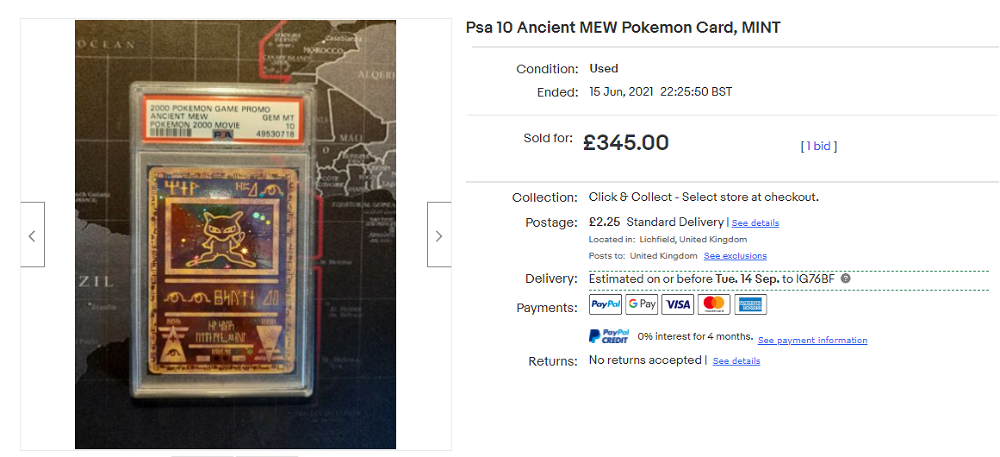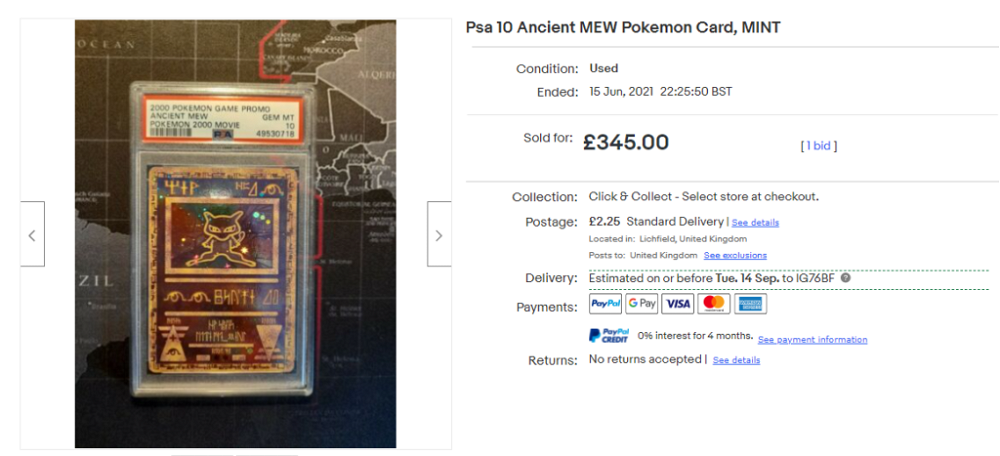 So what above the Japanese versions…
1999 Japanese "Nintedo Error" Ancient Mew
PSA 9s seem to be going for £170-£190…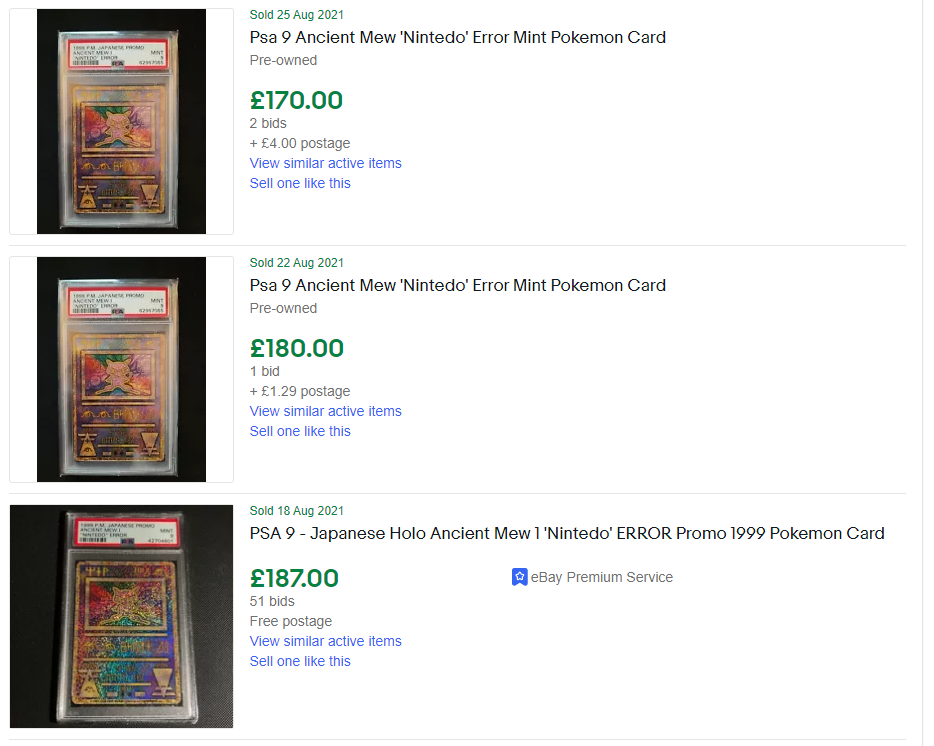 I struggled to find a sol listing for a PSA 10, but to give you some context, I did find one listed for just over £1,000…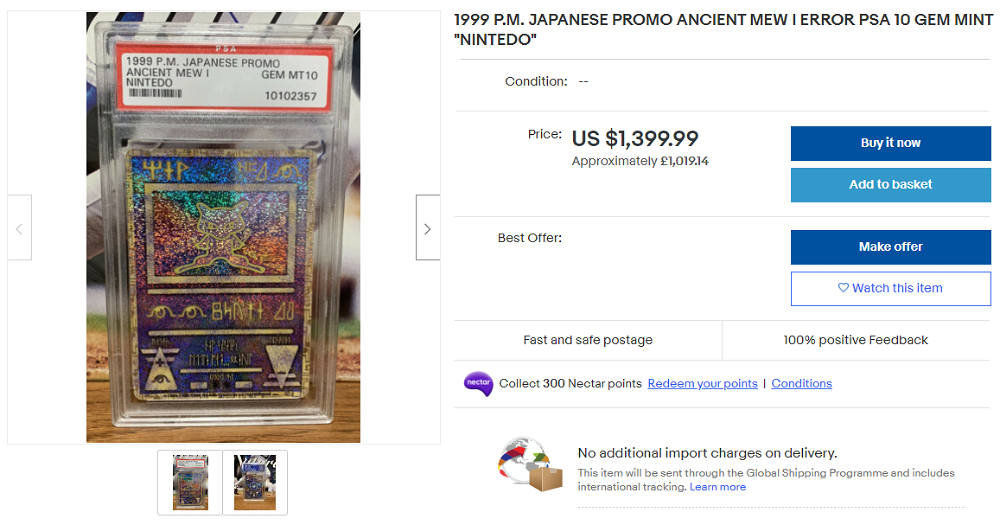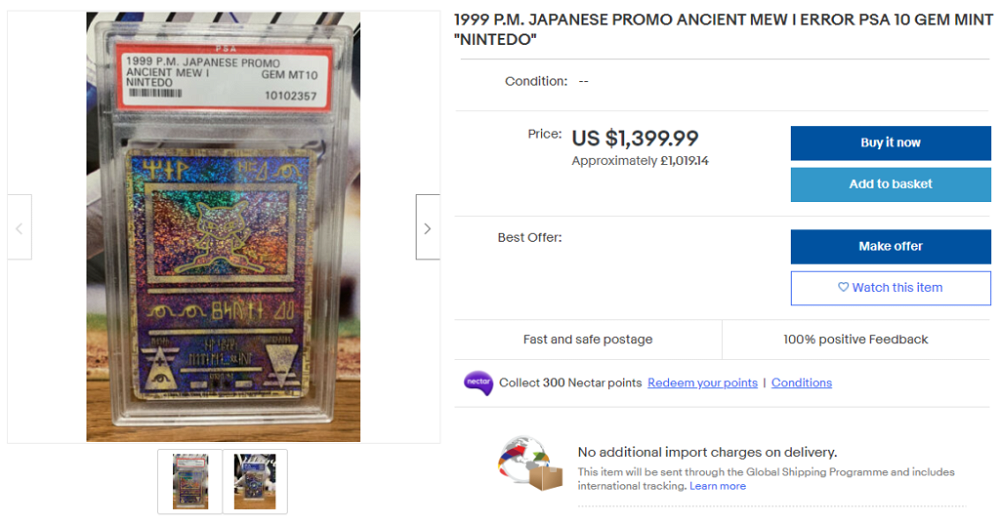 1999 Japanese "Corrected" Ancient Mew
As you'd expect, with fewer "corrected" versions graded, it's harder to find sold listings.
I couldn't find a PSA 10, however, I did find a PSA 9 that went for £232.
In my opinion I probably expect a PSA 10 to sell for around £1,500.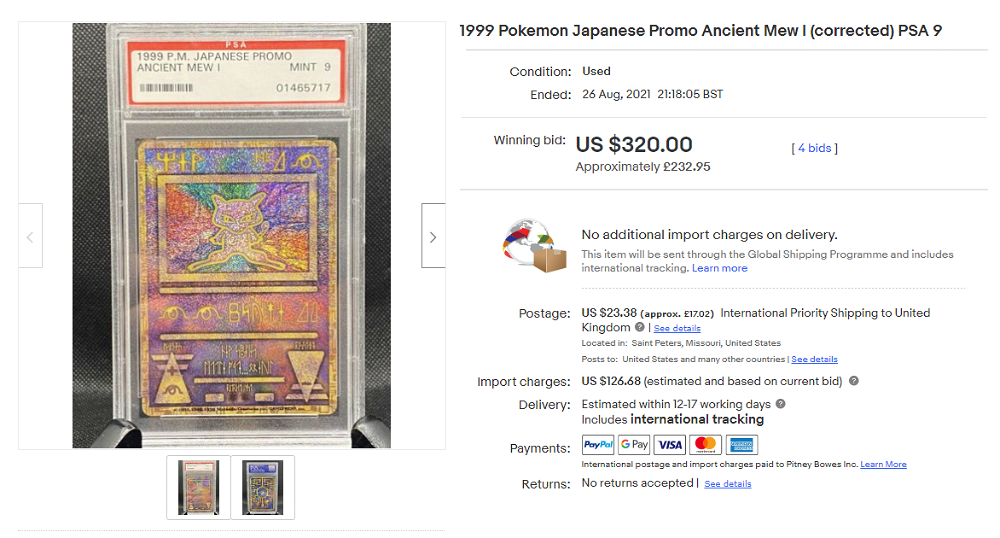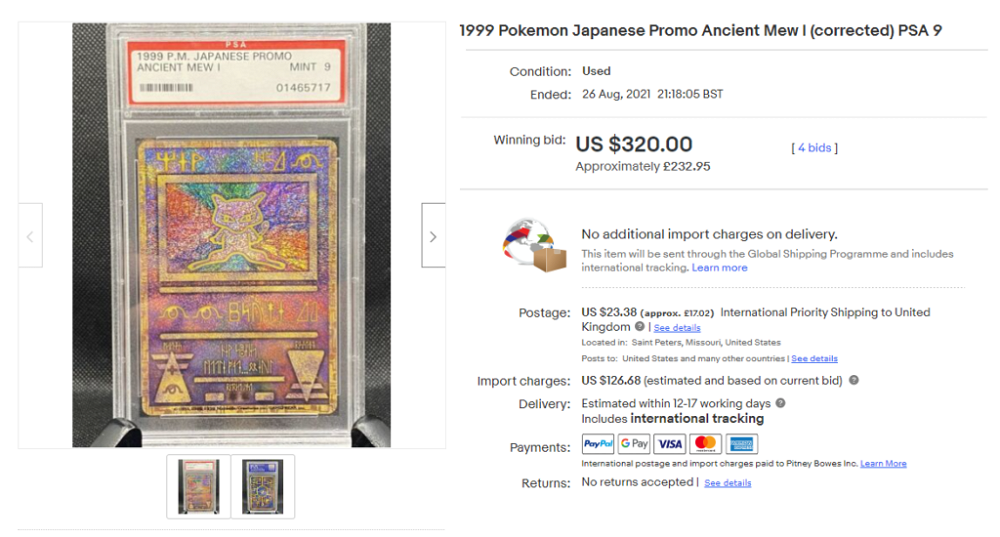 1999 Japanese "Cosmos" Ancient Mew
With nearly twice the number of graded cards, compared to the two previous print runs, its no surprise that PSA 9s sell for much less.
At approximately £90-£100 they're in the same ballpark as the UK/US version.
Surprisingly I wasn't able to find a recently sold PSA 10, but because there's such an even distribution of 9s and 10s in the PSA population report, I'd probably only value these at about £400-500.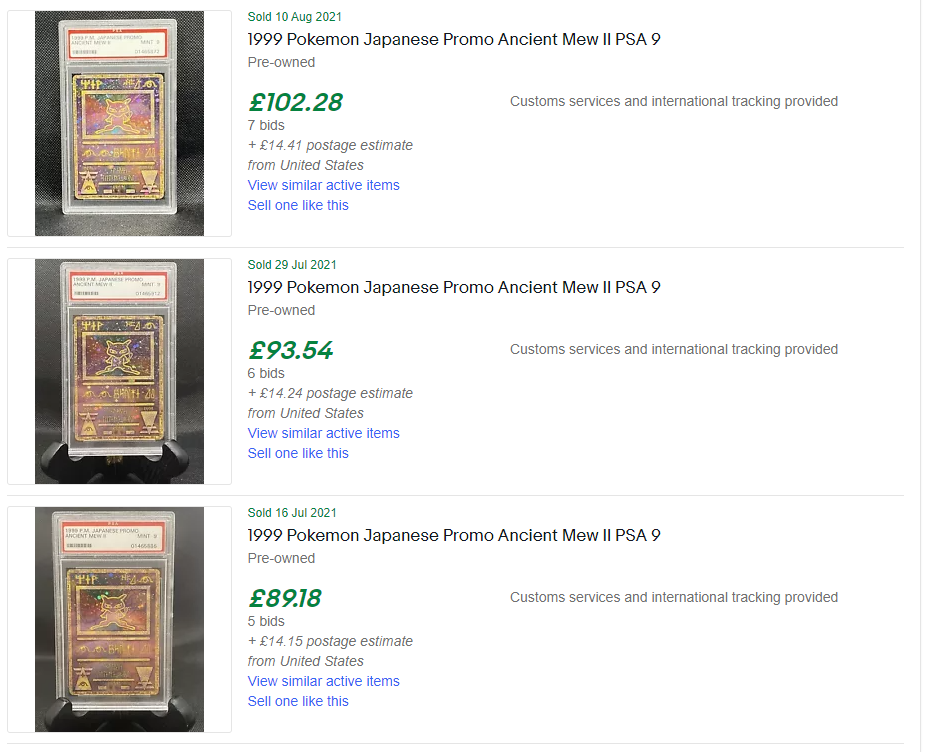 2019 Japanese "20th Anniversary" Ancient Mew
Of course with this being a relatively modern card, and the ongoing backlog at PSA, it's harder to accurately judge the value for this card.
Quite simply, if an influx of these cards get graded as PSA work their way through, the value goes down as supply goes up.
But let's take a look at some recent sold prices anyway!
Here we have a PSA 9 going for £87 and a PSA 10 for £185.
Usually you'd expect the PSA 10 value to be much higher than the 9, but because so many of these cards grade a 10 (revisit the population report above) it's undermined the value of it.
In this scenario I would never recommend buying the PSA 9 over the 10!…Unless you just want the card for your collection and don't care too much about values!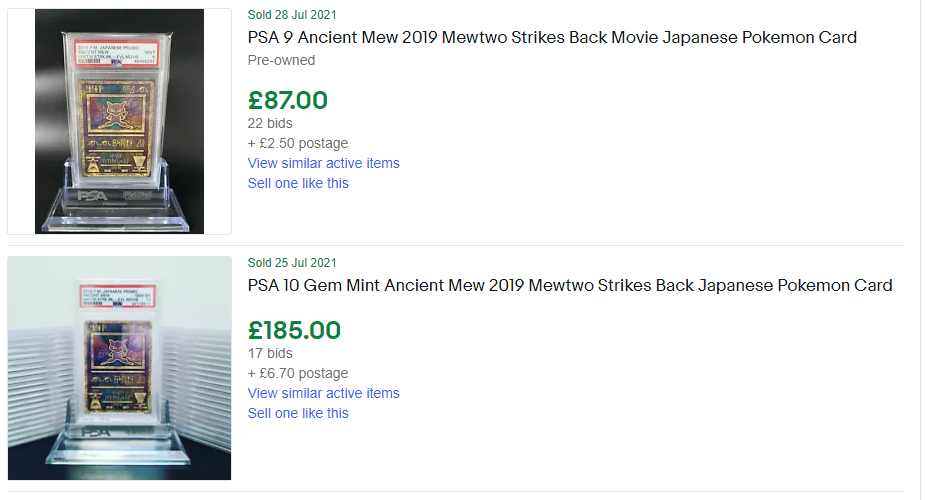 2020 Korean Ancient Mew
And finally, the Korean version!
With so few of these graded, it was cool to find the sold prices for both a PSA 9 and 10 next to each other!
£37 for a PSA 9 and £90 for a PSA 10.
In my opinion, I quite like this purchase (the PSA 10).
People love the Ancient Mew card, and when you cotton on to the different variants, it's quite fun trying to collect them all.
I think at £90 and such a low PSA population, that's quite a shrewd buy, and one I'm probably look to do too!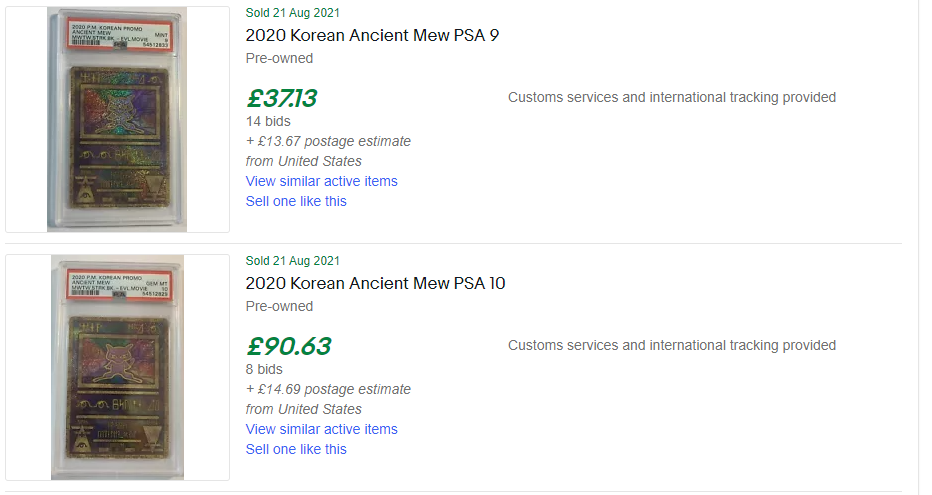 So Which Ancient Mew Card Should You Buy?!
If you can get your hands on the "corrected" version, that is the rarest.
People also love error cards, so I also think the "nintedo" version is a great card to own
I think there might be value to be had in the Korean variant
I'm on the fence about the "cosmos" variant – awesome alternative holofoil design but too easy to grade a 10 for that added bit of rarity
I'd probably avoid the UK/US version as the pop report is too high
I'd avoid the 2019 Mewtwo Strikes Back version as it's too easy to grade in a 10 to get any value from it
And just for a bit of fun to finish off…
What Does The Ancient Mew Card Actually Say?
Fun Facts:
The characters across the middle of the card translate to 'New Species'
And the ones on the bottom translate to 'Little God… or Evil?'
The four symbols behind Mew mean Birth, Enthronement, Right of Succession and Death.
The text is written in medieval Futhark Runic and Gothenburg Runic
[Source]
As always, thanks for reading and I hope you found this article interesting and valuable!