This page may contain affiliate links to places like eBay and other online retailers. If you buy from a link, we may earn a small commission. Learn more.
The Top Most Expensive Rainbow Pokémon Cards Ever Sold
Rainbow Pokémon Cards were first introduced as part of the Sun & Moon era in 2017.
These beautifully designed, secret rare cards are the ultimate chase for modern collectors.
But they're not easy to get your hands on!
With most sets having a rainbow rare pull rate of 1 in over 60 packs, it's easy to see why they're so sought after.
Combine that with trying to pull the most valuable cards like a rainbow Charizard or Pikachu, it's understandable why collectors pay hundreds, even thousands for highly graded cards.
In this article we're going to look at the most expensive Rainbow Pokémon Cards of recent times, and how much these bad boys sold for!
Let's get into it…
1. 2020 Pokemon Japanese SWSH Promo HR Winner Hyper Rare Charizard VMAX #104
PSA 10 Recently Sold for $9,300
[Source]
You might be thinking $9,300 for a modern Pokemon card is insane! I mean, you could buy a PSA 8 1st Edition Base Set Charizard for that. But maybe the backstory will help justify why it's so valuable…
Although the artwork is the same as the Charizard you might know from Champion's Path, this is a Japanese promo prize award, where only 600 copies were ever made. Entrants held a Pokemon trading card game tournament at home with family and friends, with a lottery taking place to decide the winners. This is by far the rarest modern day Charizard card, which is why it fetched such heights at auction.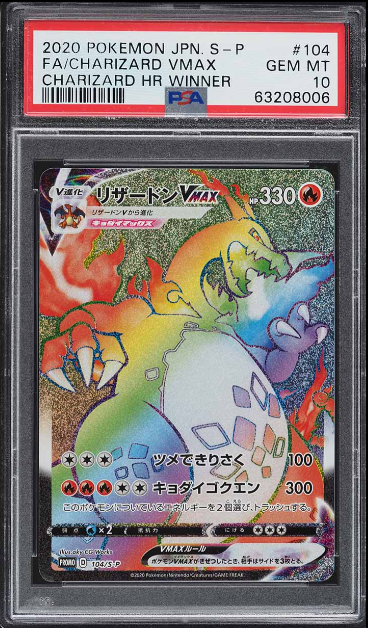 2. 2020 Pokemon Sword & Shield Vivid Voltage Pikachu VMAX #188
BGS Black Label 10 Recently Sold for $5,300
[Source]
Next we head to an absolute fan favourite! The Rainbow Pikachu from Vivid Voltage. The pull rate of this specific card is 1 in every 1092 packs, making it incredibly hard to get your hands on. But what's special about the card below is that it was graded with Beckett and received the elusive 'Black Label'. This means it's absolutely perfect, scoring 10 for centering, corners, edges and the surface. This makes it a modern day collectors gem, and as you can see, it's worth thousands!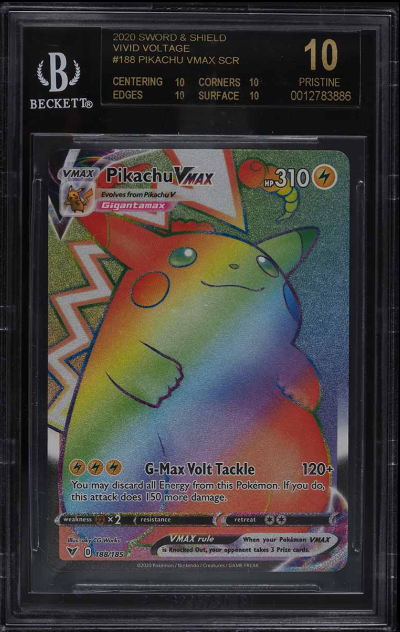 3. 2017 Pokemon Sun & Moon Burning Shadows Hyper Rare Charizard GX #150
PSA 10 Recently Sold for $4,069
[Source]
Next we have the first rainbow Charizard card ever released. These older rainbow cards are more textured to touch, and also have the lined border around the front. This makes centering issues easier to spot, therefore grading them a 10 is harder. Although PSA 10 populations climbed relatively slowly for quite some time with this card, they seem to be increasing at a faster rate. This drives the value down, so if you're in the market for the Burning Shadows Rainbow Charizard, you could certainly get a better deal than the $4k this buyer paid for it in 2021.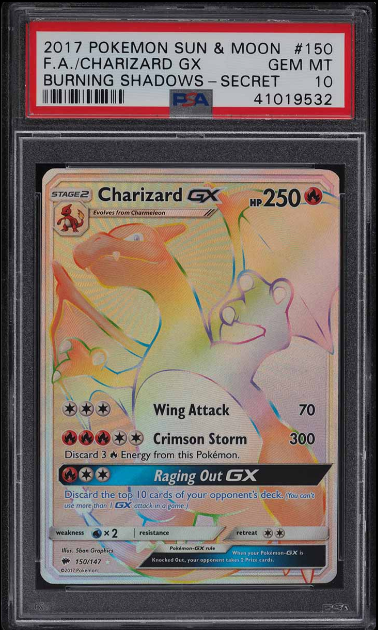 4. 2019 Pokemon Sun & Moon Unbroken Bonds Secret Reshiram & Charizard #217
BGS Black Label 10 Recently Sold for $4,050
[Source]
Here's another great example of the premium achieving a Beckett Black Label can add to a card. Where a recent PSA 10 sold for $690, this perfect variant sold for 5.8x that!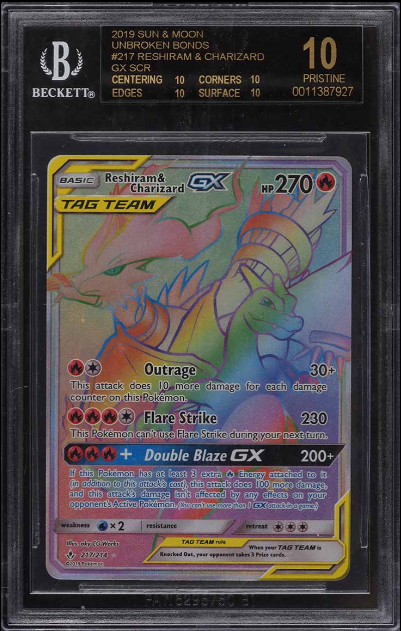 5. 2019 Pokemon SM Cosmic Eclipse Hyper Rare Charizard & Braixen GX #251
BGS Black Label 10 Recently Sold for $3,550
[Source]
Same again with this tag team Rainbow Charizard & Braixen, selling for 6.6x the price of a PSA 10.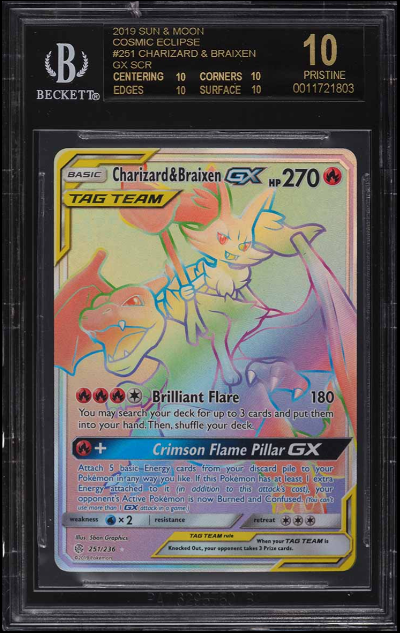 6. 2020 Pokemon Sword & Shield Champion's Path Charizard VMAX SCR #074
BGS Black Label 10 Recently Sold for $2,600
[Source]
Next is my favourite Rainbow Pokémon Card of all! I own the PSA 10 (purchased not pulled from a booster pack!) because I just love the design of it. Interestingly, an insane number of PSA 10's exist (12,000 at the time of writing), which drives down the value considerably. However, if you're lucky enough to get the Black Label 10 like the card below, it can still fetch thousands at auction.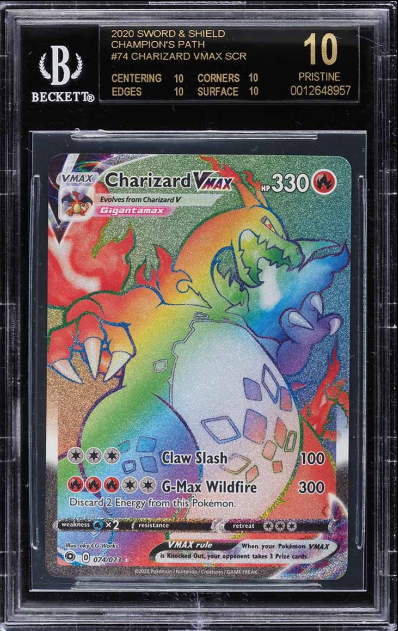 7. 2022 Pokemon Japanese SWSH Star Birth Charizard VSTAR #118
BGS Black Label 10 Recently Sold for $1,830
[Source]
You'll probably recognise the artwork below as the Rainbow Charizard VSTAR from Brilliant Stars. This particular copy is the Japanese version from the equivalent set named Birth Star. Again, a beautifully designed card in a perfect grade.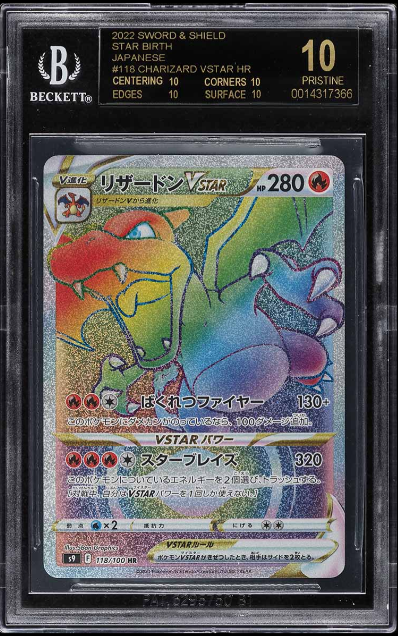 8. 2018 Pokemon Sun & Moon Lost Thunder Secret Lugia GX #227 PSA 10
PSA 10 Recently Sold for $1,100
[Source]
Coming away from a certain fire dragon, we roll back a few years to one of the earlier rainbow Pokémon cards. This time, it's the elusive Lugia from gen 2. With 236 cards, Lost Thunder is really quite a large set, making the Lugia a tricky pull. And with only 397 PSA 10's in existence, this is quite a low population for a relatively modern card. Hence why it fetched over $1k at auction.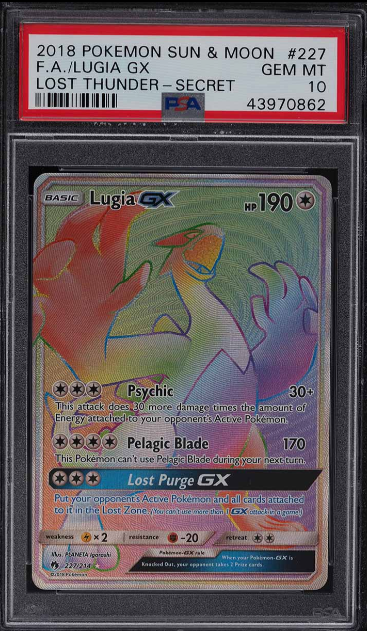 9. 2018 Pokemon Sun & Moon Celestial Storm Secret GX Rayquaza #177
PSA 10 Recently Sold for $640
[Source]
Moving on to Gen 3, next on our list is the rainbow Rayquaza from Celestial Storm. Like the Lugia, it has a relatively low PSA 10 population of 352 for a modern chase card.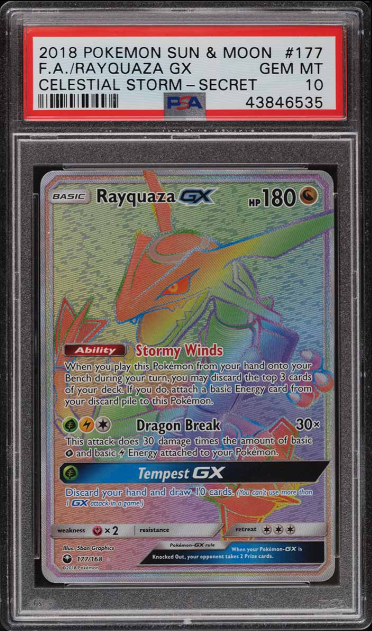 10. 2019 Pokemon S&M Unified Minds Secret GX Mewtwo & Mew #242
PSA 10 Recently Sold for $625
[Source]
Lastly, we've got this beautiful rainbow Mewtwo & Mew card from Unified Minds. In fact this set has three brilliant full art cards featuring the pair. It's another big set with 258 cards, making this rainbow tag team card very hard to pull indeed.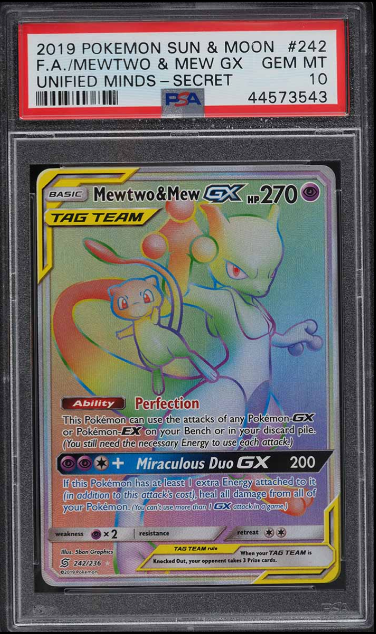 Rainbow Pokémon Card FAQ
How much are Rainbow Pokémon Cards Worth?
Rainbow Pokémon Cards that are graded a perfect 10 (by PSA or Beckett) can fetch thousands of dollars. But the majority of them, that doesn't achieve this grade will be worth a figure in the hundreds or less. For ungraded / raw card values, please navigate our our 'Pokemon Card Sets' page, drill into the set you want, and we detail prices there.
What are the chances of getting a rainbow rare Pokémon card?
There is approximately 1 rainbow card every 60 packs (this number depends on the set). This means there is approximately 1 rainbow rare for every two boxes.
Will rainbow rare Pokémon cards go up in value?
The more rainbow Pokémon cards that get graded, the more it will push values down. This is because supply in the market will increase. However, rainbow cards that achieve a top 'Blade Label' grade from the likes of Beckett – who are notoriously stricter – will likely hold or continue to rise in value.
For more information on how to grade your Pokemon cards with Beckett, follow the link.