This page may contain affiliate links to places like eBay and other online retailers. If you buy from a link, we may earn a small commission. Learn more.
What This List Contains
If you're like me, I'm always looking for my next Pokemon card investment – that has the potential to grow in value.
So it makes sense to research cards that have recently sold for big bucks.
This is exactly what the list below gives you.
I've spent hours researching sales and combining data from the top auction houses, as well as eBay.
Hopefully this gives you a really useful base to find raw versions of the cards, that you can potentially get graded. Or maybe even graded versions that you find good deals on.
Enjoy, and use it wisely!
---
Top 100 Most Expensive Pokemon Cards List
1. 1998 Pokemon Japanese Promo Holo Illustrator Pikachu
---
2. 1999 Pokemon Base Set Shadowless 1st Edition Holo Charizard #4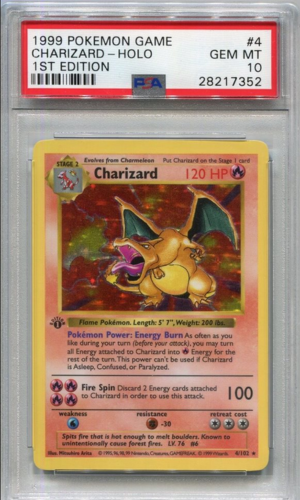 ---
3. 1996 Pokemon Japanese Base Set Holo Charizard NO RARITY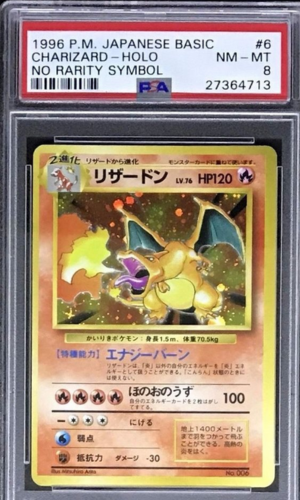 ---
4. 1998 Pokemon Japanese Promo Bronze 3rd-2nd Tournament Trophy Pikachu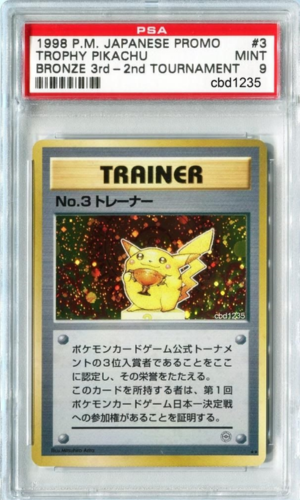 ---
5. 1995 Pokemon Japanese Topsun Blue Back No Number Charizard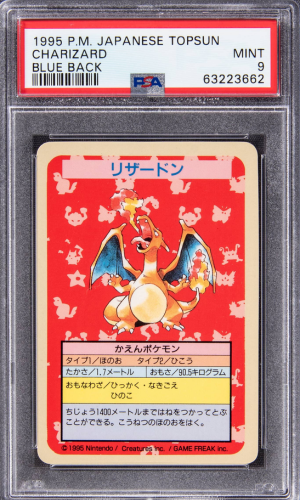 ---
6. 1998 Pokemon Japanese Promo Family Event Trophy Card Holo Kangaskhan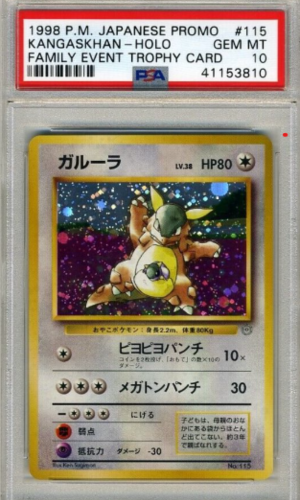 ---
7. 2000 Pokemon Neo Genesis 1st Edition Holo Lugia #9
---
8. 2006 Pokemon World Championships Promo No. 2 Trainer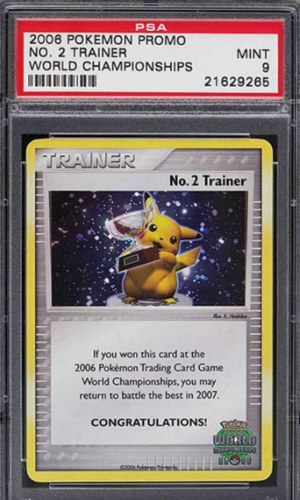 ---
9. 1999 Pokemon Base Set Shadowless Holo Charizard #4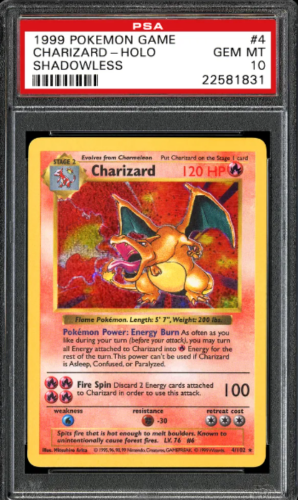 ---
10. 2005 Pokemon Japanese Play Promo 70,000 Pts. Holo Gold Star Umbreon #026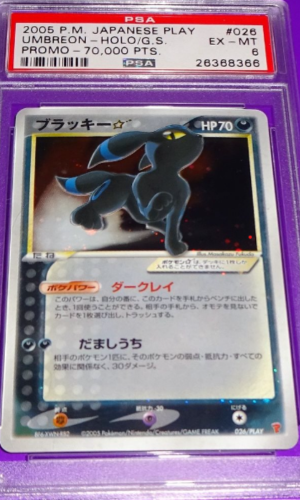 ---
11. 1998 Pokemon Japanese Promo Tamamushi University Prize Magikarp #129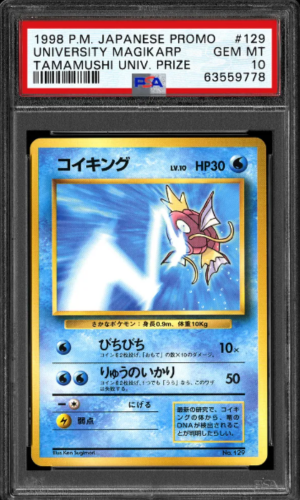 ---
12. 2012 Pokemon World Championships Promo World Championships No. 1 Trainer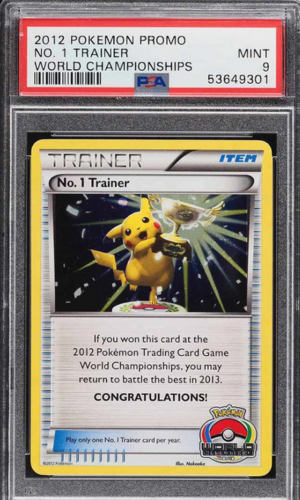 ---
13. 1999 Pokemon Japanese Promo Tropical Mega Battle Tropical Wind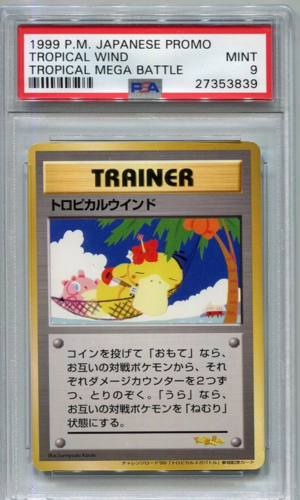 ---
14. 2013 Pokemon Promo World Championships Holo No. 2 Trainer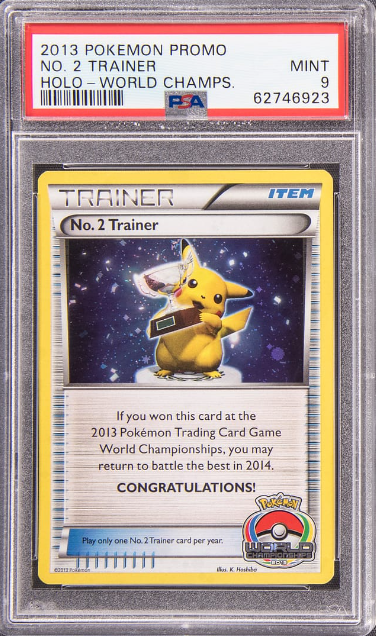 ---
15. 2005 Pokemon Japanese Summer Battle Road Mew Victory Orb Trophy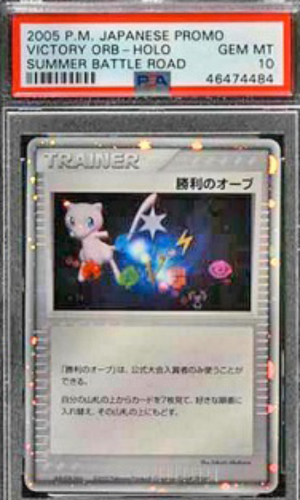 ---
16. 2000 Pokemon Topps Chrome Series 1 Tekno Charizard #6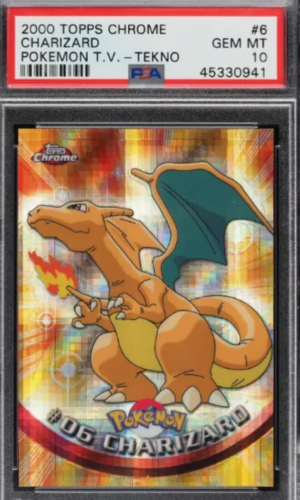 ---
17. 1999 Pokemon Base Set 1st Edition Shadowless Holo Blastoise #2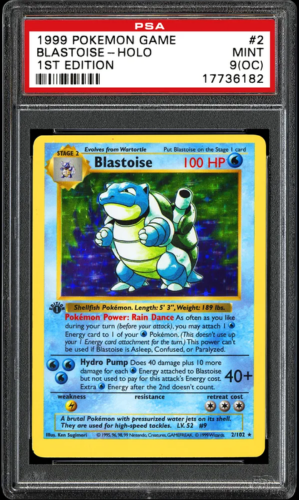 ---
18. 1996 Pokemon Japanese Base Set No Rarity Symbol Holo Venusaur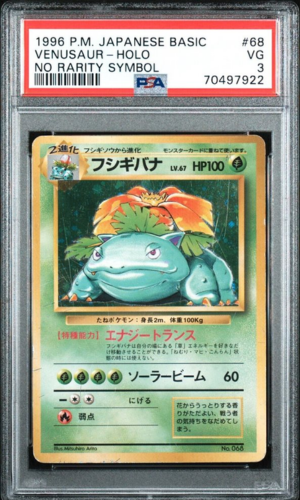 ---
19. 1999 Pokemon Japanese Promo Tropical Mega Battle No. 2 Trainer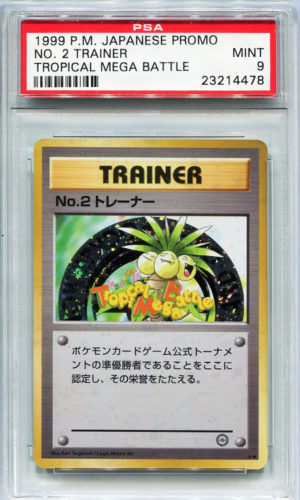 ---
20. 2004 Pokemon EX Team Rocket Returns Holo Gold Star Torchic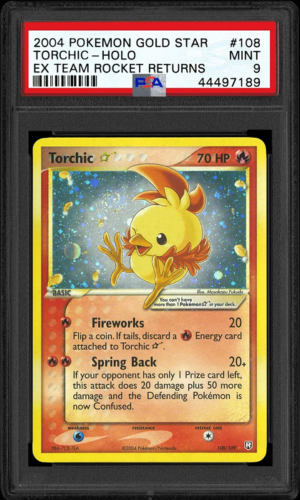 ---
21. 2005 Pokemon EX Deoxys Gold Star Holo Rayquaza #107
---
22. 1999 Pokemon Base Set 1st Edition Shadowless Holo Chansey #3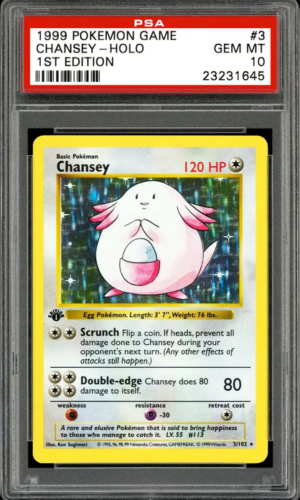 ---
23. 2010 Pokemon Japanese Design Promo 4th Grade Winner Illusion's Zoroark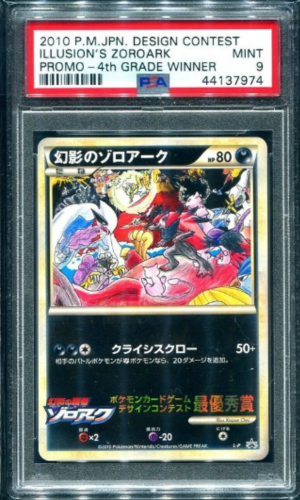 ---
24. 2000 Pokemon Korean Base Set 1st Edition Holo Charizard #4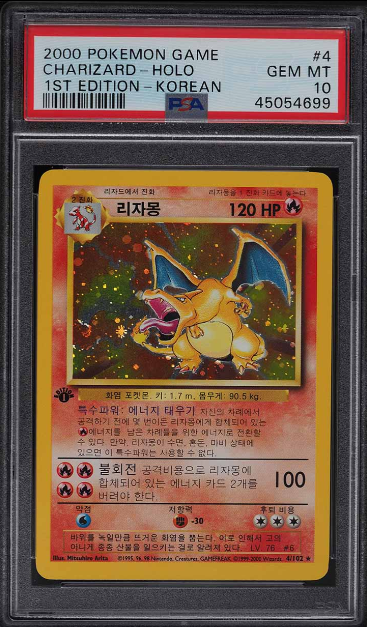 ---
25. 2000 Pokemon Topps Chrome Series 1 Sparkle Charizard #6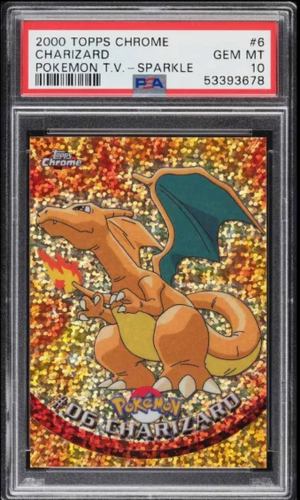 ---
26. 1995 Pokemon Japanese Topsun Holofoil Charizard #6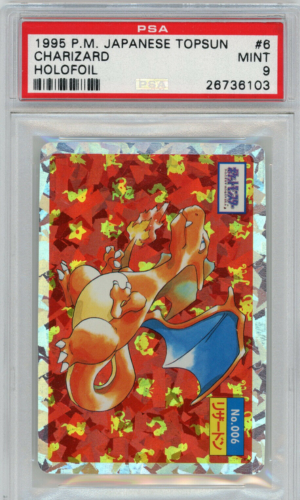 ---
27. 1999 Pokemon German 1st Edition Holo Charizard #4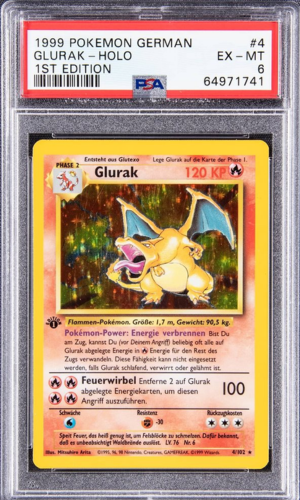 ---
28. 2005 Pokemon Japanese Promo Spring Battle Road Victory Ring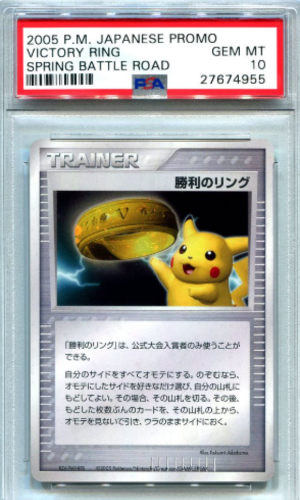 ---
29. 2010 Pokemon Japanese Promo Daisuki Club 8,600 Holo Masters Scroll #055
---
30. 2002 Pokemon Trophy Card Neo Spring Battle Road Number 2 Trainer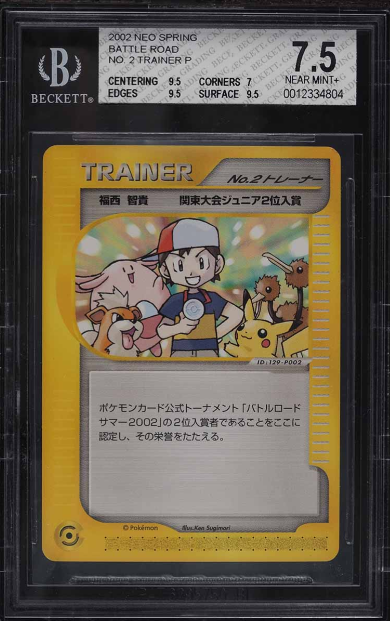 ---
31. 2004 Pokemon World Championships Ken Sugimori Pokemon Cut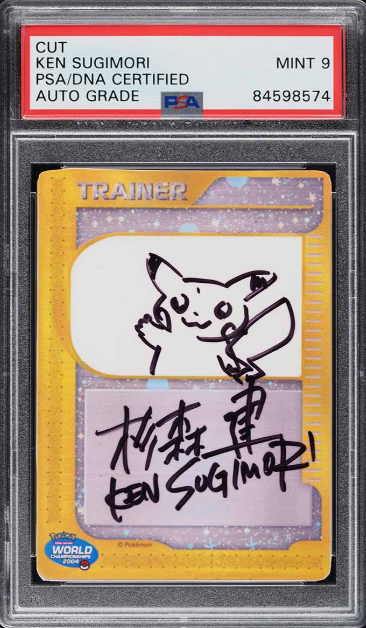 ---
32. 2018 Pokemon Promo World Championships Holo No. 3 Trainer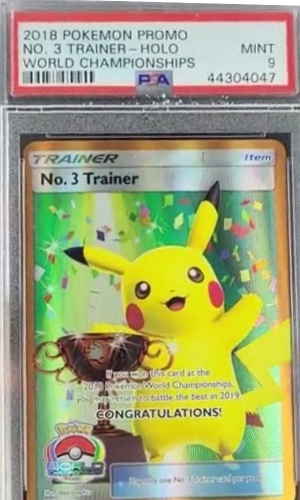 ---
33. 2007 Pokemon Japanese Promo Summer Battle Road Miracle Diamond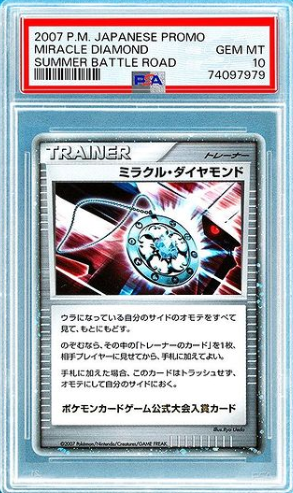 ---
34. 1996 Pokemon Japanese Bandai Carddass Vending Prism Red Charizard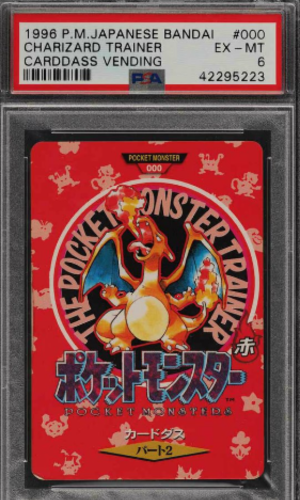 ---
35. 2000 Pokemon Chinese Base Set Holo Charizard #4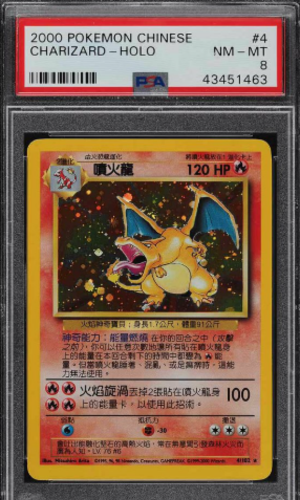 ---
36. 1999 Pokemon Base Set Shadowless 1st Edition Holo Venusaur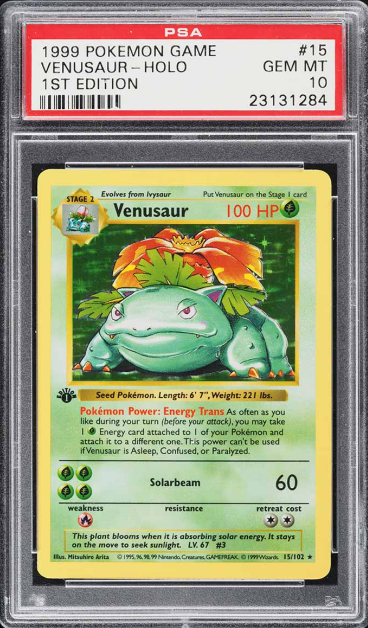 ---
37. 2000 Pokemon Japanese Neo 3 Promo 600 Pt. Fan Club Shining Magikarp
---
38. 2021 Pokemon Japanese 25th Anniversary Creatures Deck Corporate History Charizard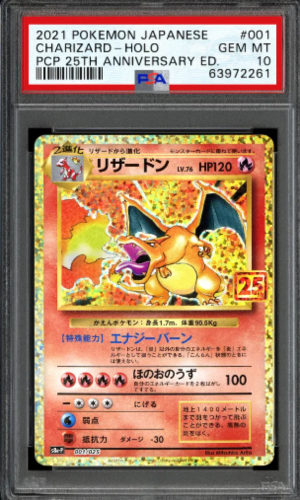 ---
39. 2006 Pokemon EX Dragon Frontiers Holo Charizard Gold Star #100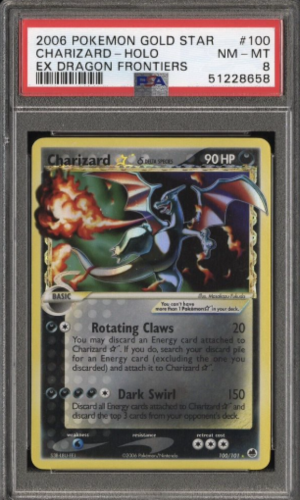 ---
40. 2010 Pokemon World Championship Master Key Trophy Card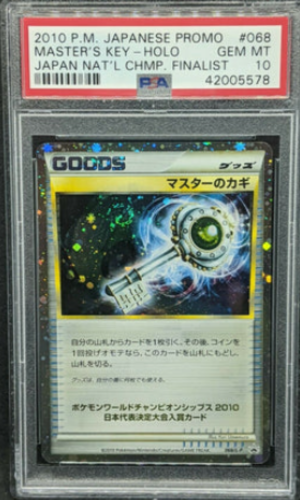 ---
41. 2010 Pokemon Japanese Daisuki Club Special Rank Prize Umbreon Prime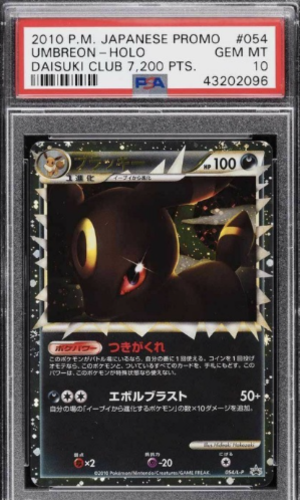 ---
42. 2005 Pokemon Japanese Play Promo 50,000 Pts Holo Espeon Gold Star #025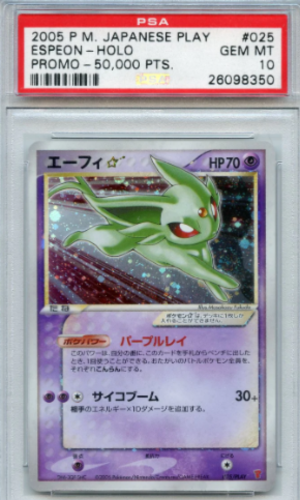 ---
43. 2009 Pokemon Japanese Promo Wonder Platinum Trophy Card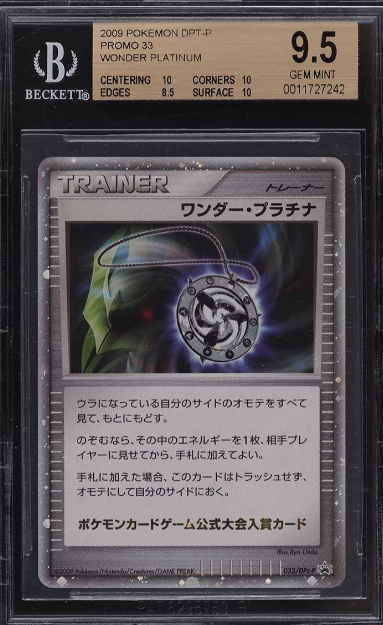 ---
44. 2003 Pokemon Skyridge Holo Crystal Charizard #146
---
45. 1996 Pokemon Japanese Basic No Rarity Symbol Holo Poliwrath #62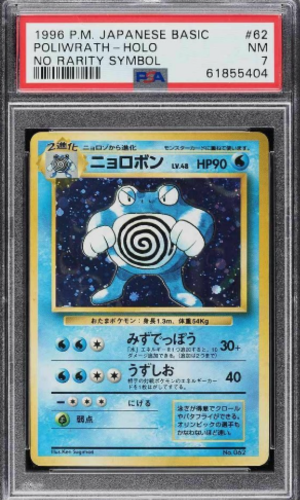 ---
46. 1999 Pokemon Base Set 1st Edition Shadowless Holo Hitmonchan #7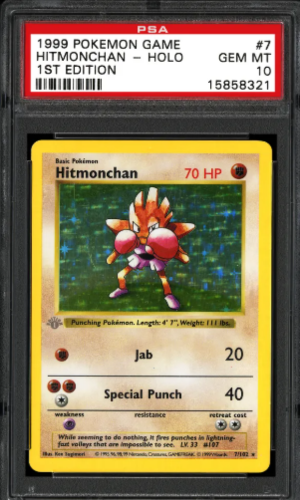 47. 1999 Pokemon Base Set 1st Edition Shadowless Holo Mewtwo #10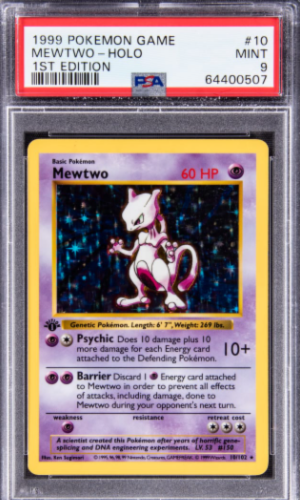 ---
48. 2009 Pokemon Diamond & Pearl Black Star Promo Holo Charizard G Lv.X #DP45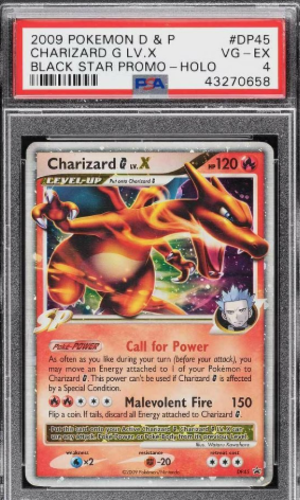 ---
49. 2007 Pokemon Pop Series 5 Espeon Gold Star #16
---
50. 1999 Pokemon French 1st Edition Holo Dracaufeu Charizard #4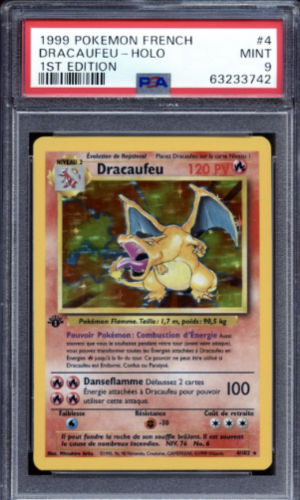 ---
51. 2002 Pokemon Neo Destiny 1st Edition Shining Charizard #107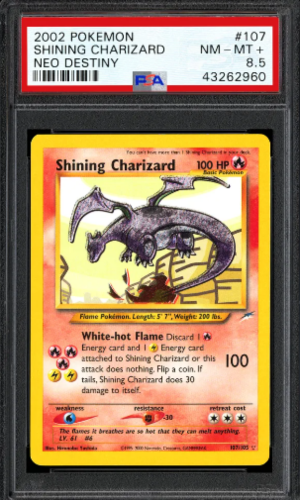 ---
52. 2005 Pokemon EX Deoxys Gold Star Holo Latias #105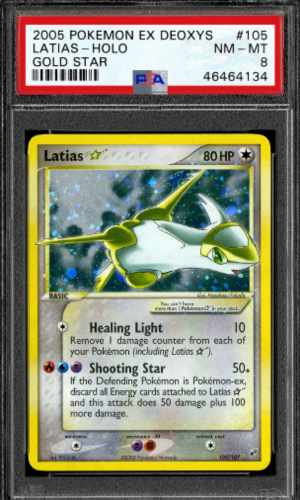 ---
53. 1995 Pokemon Japanese Topsun Holofoil Blastoise #9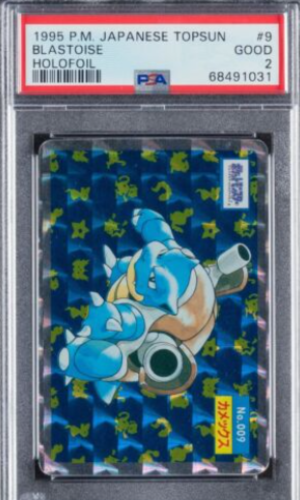 ---
54. 2020 Pokemon Japanese HR Contest Winner Full Art Charizard V #103/S-P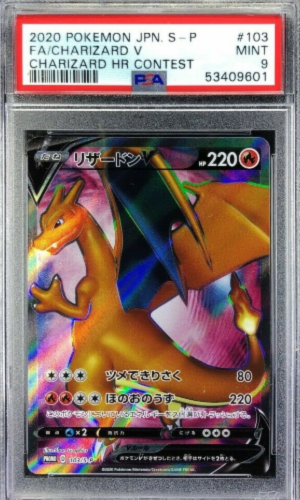 ---
55. 2007 Pokemon Pop Series 5 Gold Star Umbreon #17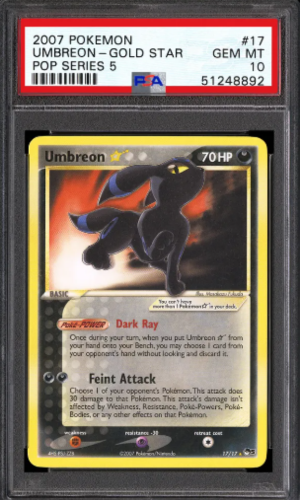 ---
56. 2005 Pokemon Japanese Play Promo 20,000 Pts Holo Jolteon Gold Star #23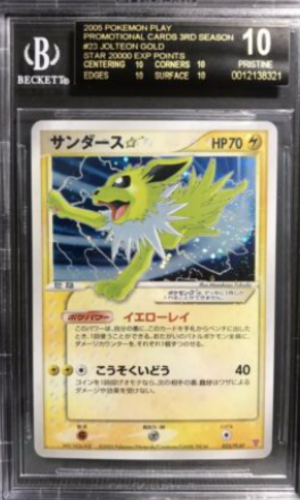 ---
57. 2000 Pokemon Neo Genesis 1st Edition Holo Pichu #12
---
58. 1999 Pokemon Base Set Shadowless 1st Edition Holo Gyarados #6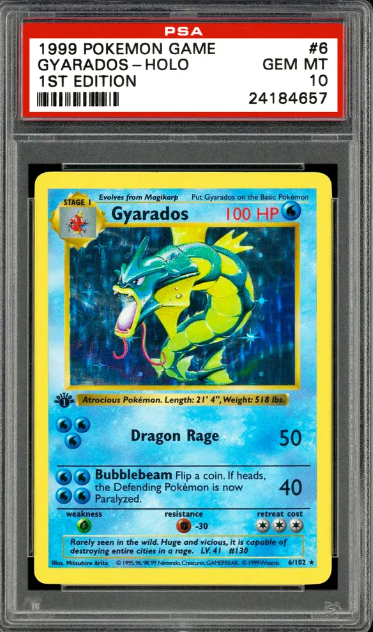 ---
59. 2002 Pokemon Expedition Holo Charizard #6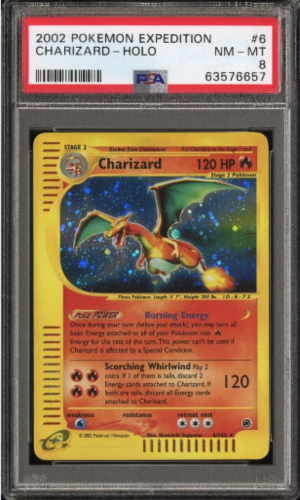 ---
60. 1999 Pokemon Base Set 1st Edition Shadowless Holo Alakazam #1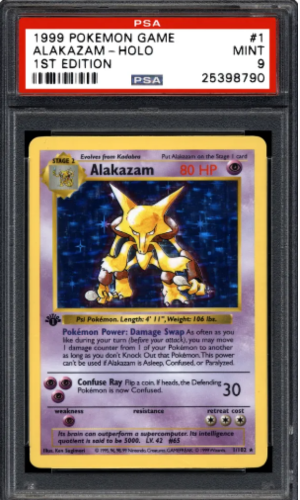 ---
61. 1999 Pokemon Base Set 1st Edition Shadowless Holo Raichu #14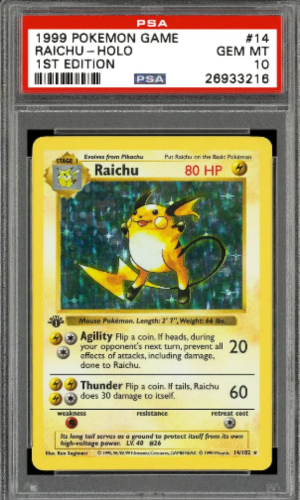 ---
62. 2008 Pokemon Diamond & Pearl Stormfront Secret Rare Holo Charizard #103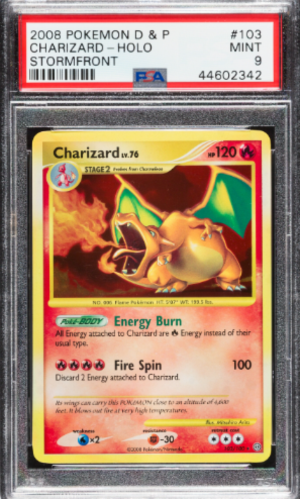 ---
63. 2005 Pokemon Japanese Promo Champion's League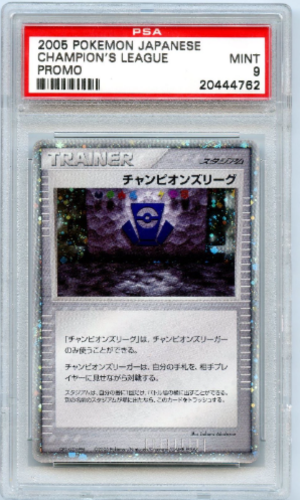 ---
64. 2012 Pokemon Black & White Plasma Storm Charizard #136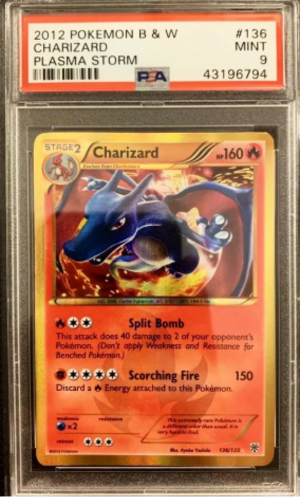 ---
65. 1999 Pokemon Base 1st Edition Holo Thick Stamp Shadowless Ninetales #12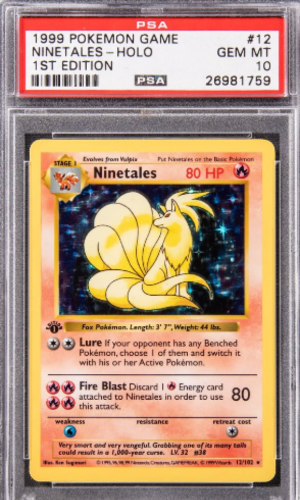 ---
66. 2001 Pokemon Japanese Neo 4 Shining Charizard #6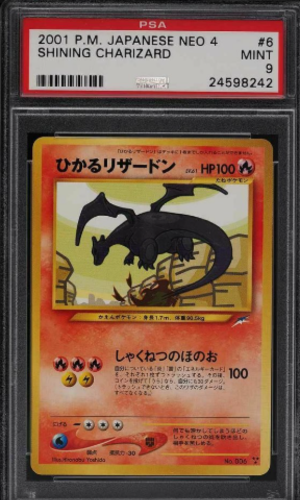 ---
67. 1999 Pokemon Base Set Holo Charizard #4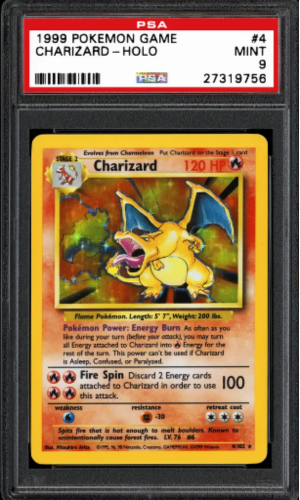 ---
68. 2016 Pokemon XY Evolutions Prerelease Staff Holo Charizard #11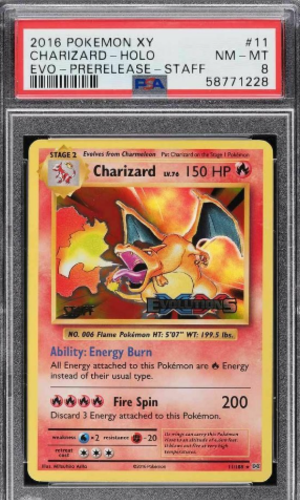 ---
69. 1999 Pokemon Base Set 1st Edition Shadowless Holo Magneton #9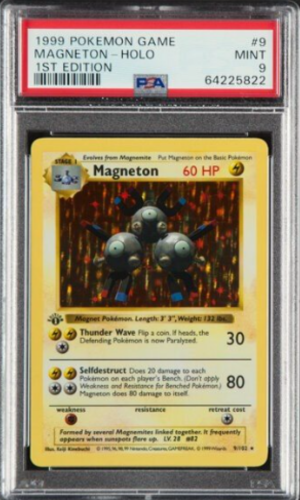 ---
70. 2006 Pokemon EX Holon Phantoms Holo Gyarados Gold Star #102
---
71. 2000 Pokemon Base Set 2 Non-Holo Charizard ERROR #4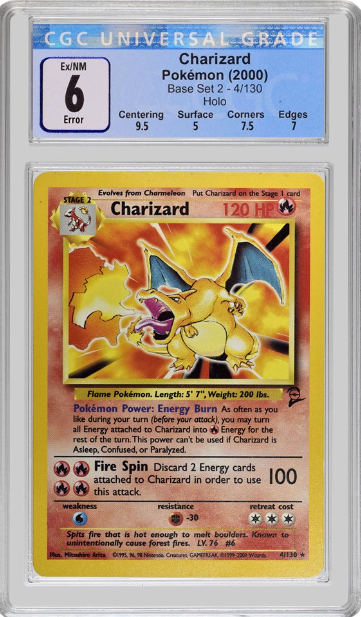 ---
72. 2001 Pokemon Neo Revelation 1st Edition Holo Misdreavus #11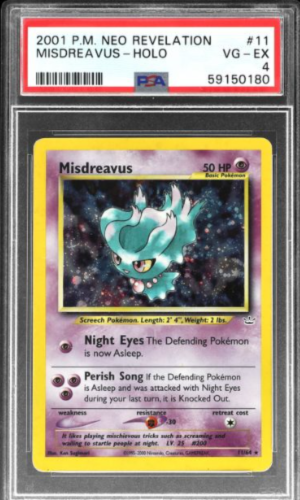 ---
73. 2001 Pokemon Neo Revelation 1st Edition Holo Houndoom #8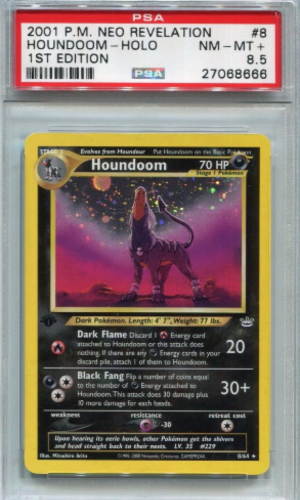 ---
74. 2007 Pokemon Japanese Promo Winter Challenge Mysterious Pearl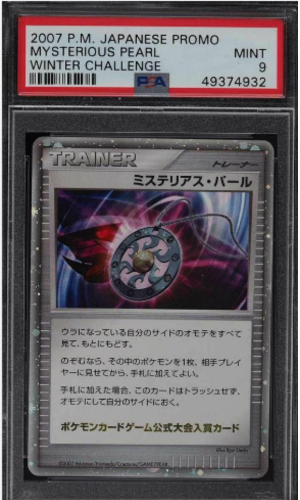 ---
75. 1999 Pokemon Game Shadowless Holo Charizard #4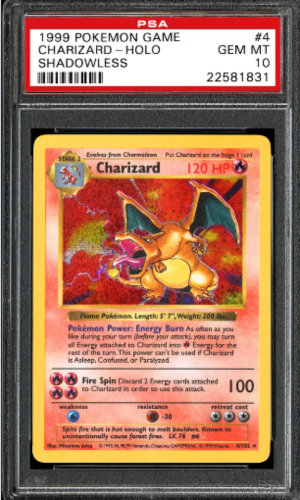 ---
76. 1999 Pokemon Jungle 1st Edition Holo Snorlax #11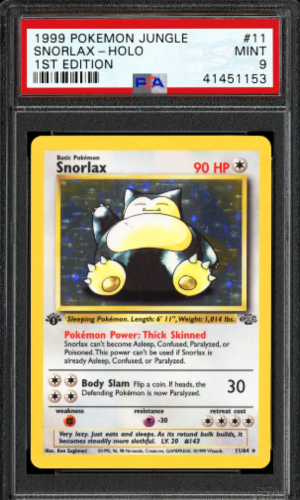 ---
77. 2015 Pokemon Japanese XY Promo Battle Festa Event Org. Pikachu #175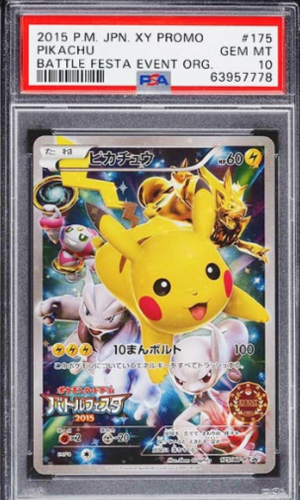 ---
78. 1996 Pokemon Japanese Base Set No Rarity Symbol Holo Mewtwo #150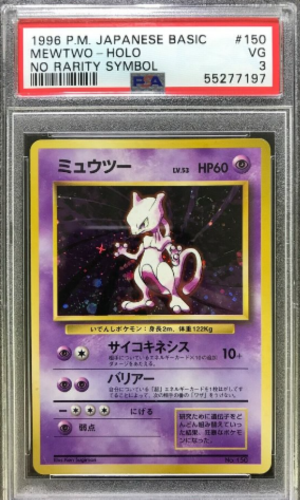 ---
79. 2001 Pokemon Neo Discovery 1st Edition Holo Yanma #17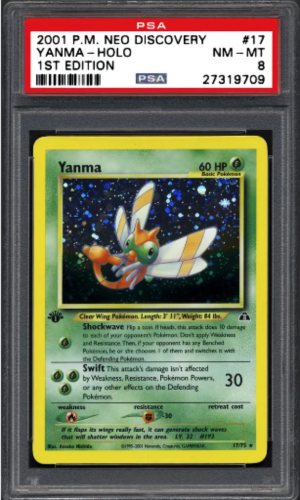 ---
80. 2004 Pokemon Japanese Clash Blue Sky EX Deoxys 1st Ed Rayquaza Gold Star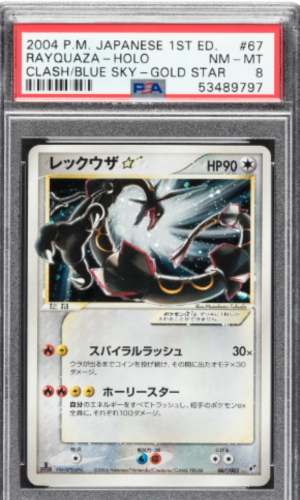 ---
81. 1999 Pokemon Base Set 1st Edition Shadowless Red Cheeks Pikachu #58
---
82. 1995 Pokemon Japanese Topsun Holofoil Pikachu #25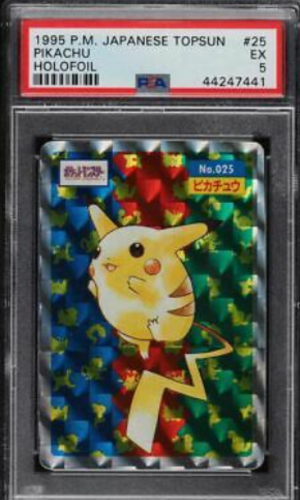 ---
83. 2003 Pokemon Aquapolis Holo Crystal Lugia #149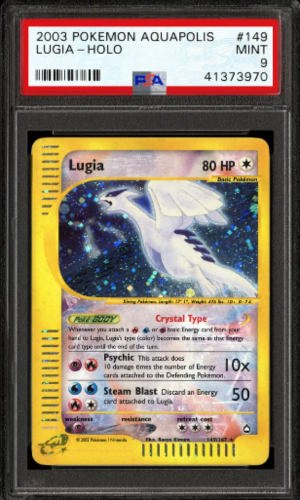 ---
84. 1999 Pokemon Jungle 1st Edition Holo Vaporeon #12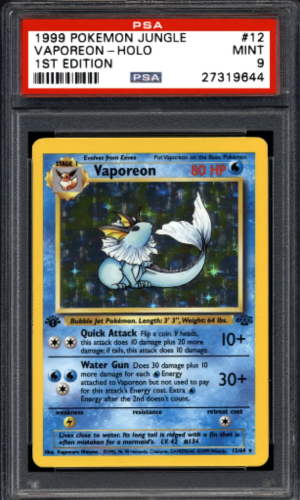 ---
85. 1996 Pokemon Japanese Base Set No Rarity Symbol Holo Nidoking #34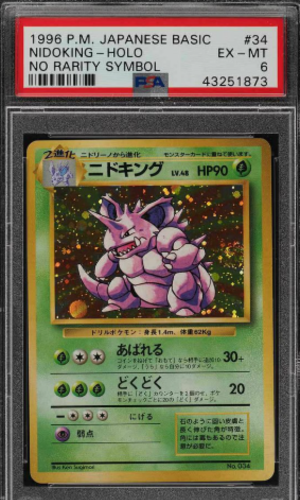 ---
86. 2005 Pokemon World Championships Promo Championship Arena #28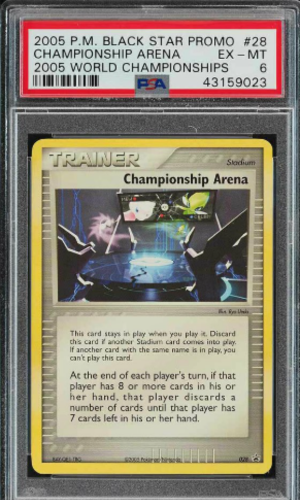 ---
87. 2017 Pokemon Japanese S&M Promo Shining Legends The Masked Royal #085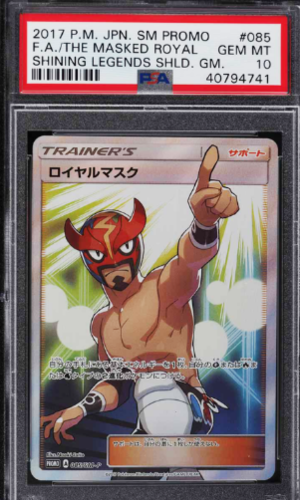 ---
88. 2001 Pokemon Neo Revelation 1st Edition Shining Gyarados #65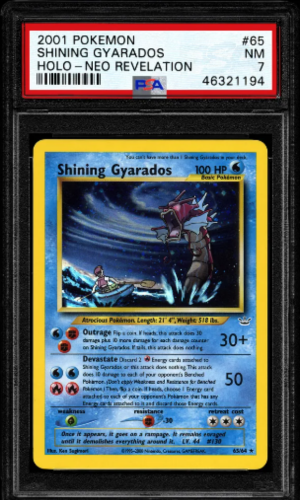 ---
89. 1996 Pokemon Japanese Base Set No Rarity Symbol Holo Alakazam #65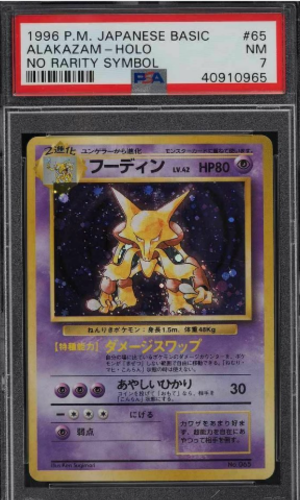 ---
90. 2001 Pokemon Neo Discovery 1st Edition Holo Umbreon #13
---
91. 1995 Pokemon Japanese Topsun Holofoil Venusaur #3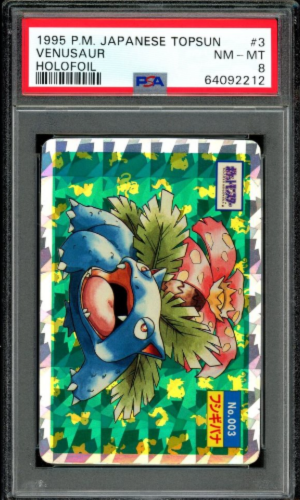 ---
92. 2016 Pokemon 20th Anniversary 24K Gold Ginza Tanaka Japanese Pikachu #25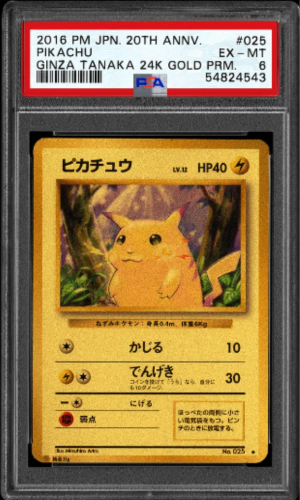 ---
93. 2002 Pokemon E-Card Sample Pikachu #16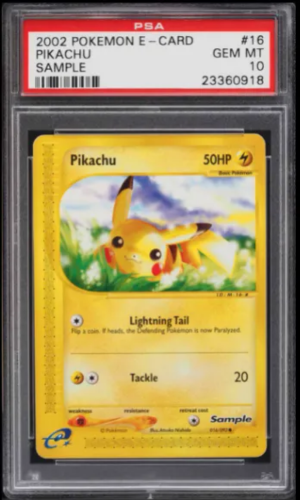 ---
94. 2010 Pokemon Heartgold & Soulsilver Holo Lugia Legend #114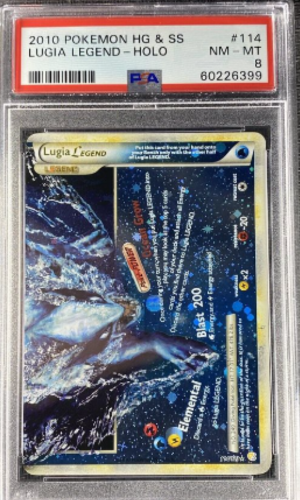 ---
95. 1999 Pokemon Japanese Vending Masaki Promo Holo Gengar #94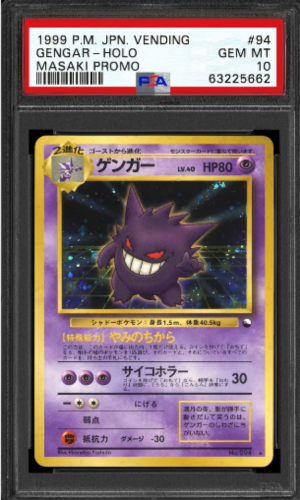 ---
96. 1999 Pokemon Game 1st Edition Base Set Shadowless Holo Zapdos #16
---
97. 2000 Pokemon Japanese Tropical Mega Battle Promo Lucky Stadium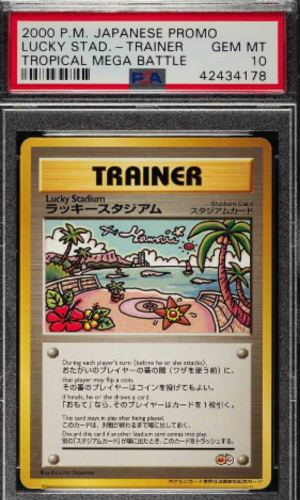 ---
98. 2000 Pokemon Neo Genesis 1st Edition Holo Meganium #10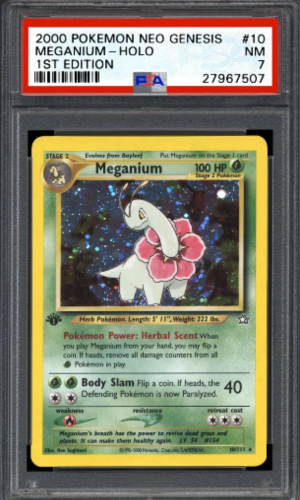 ---
99. 2002 Pokemon Legendary Collection Reverse Holo Charizard #3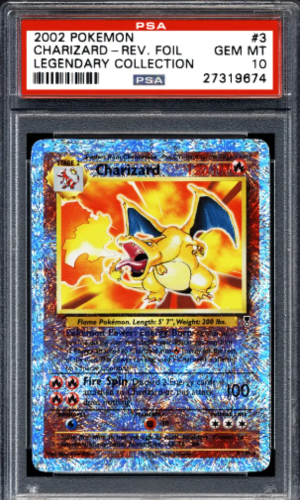 ---
100. 2011 Pokemon Call Of Legends Holo Lugia #SL7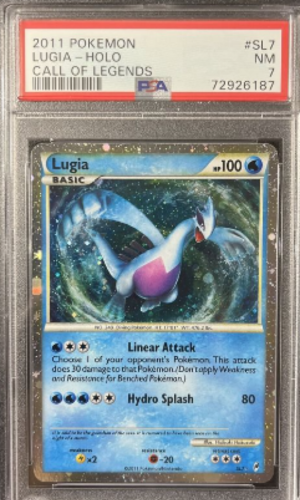 ---