Learning about valuable Pokémon cards is one of the smartest moves you can ever make as a collector.
Rarity and value go hand-in-hand, so if you're looking to start picking the right pieces for your collection, you're in the right place.
Of course, not all of the rarest cards are obtainable, but the mere practice of investigating the world's rarest Pokémon cards will help you long-term.
So let's get into it – and there's only one place to start with this record setting card…
1. 1998 Pikachu Illustrator Holo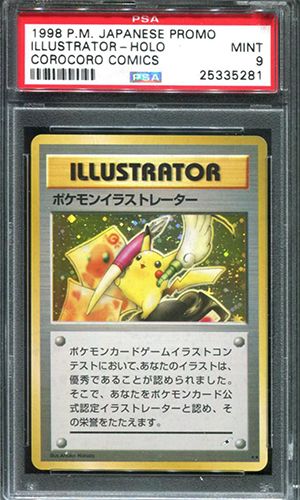 There's no better place to start than what many consider to be the rarest Pokemon card in existence, the Pikachu Illustrator holo.
This is the perfect example of a card with extremely limited supply and few graded copies in existence.
Backstory
In 1997 and 1998, one of Japan's longest running comics CoroCoro ran competitions to encourage readers to design their own Pokemon cards.
Not only did the winners receive 20 copies of their illustration on cards, but they also received this iconic Pikachu Illustrator card as an award.
What Makes the 1998 Pikachu Illustrator Card So Rare?
Only 39 copies are known to exist

Only 24 of these have been graded by PSA, with only 1 PSA 10 in existence

It's the only card with 'ILLUSTRATOR' written across the top instead of 'TRAINER'

It's the only card with a pen symbol in the bottom right-hand corner

It's also one of the few cards that has double-star rarity too in the bottom right-hand corner
Recent Sales
PSA 10 – Logan Paul – $5,275,000 [

Source

] – Enters the Guinness World Records for most expensive Pokemon card ever bought!

Raw then graded PSA 9 – $420,000 [See video below]

PSA 7 – $375,000 [

Source

]
2. 1999 First Edition Shadowless Base Set Charizard
A card that needs no introduction, and what is for many, the pinnacle of the hobby. This Charizard card is by far the most valuable and sought by Pokemon card collectors, and for good reason too…
Backstory
Let's be honest, 1st Edition Base Set Shadowless Charizard is a badass card!
The famous artwork breathing fire. The powerful 100 point Fire Spin coupled with the 120 HP. The subtle first edition stamp and shadowless border. It's just a masterpiece!
But it's not just that, that makes it so valuable…
As a kid, you were king of the playground with one of these in your pocket. It felt like you won the lottery if you pulled it from a pack. You could boss the TCG if you had one in your deck.
This card is worth so much because of the way it made you feel. And the way it makes you feel today.
Its nostalgic value is synonymous with its real world value.
It's no surprise that even celebrities who grew up in the Pokemon era, use their fat stacks to rebuy a piece of their childhood.
Logic the rapper famously purchased a copy in 2020 through Auction House Iconic Auctions for $183,812 (plus a 20% buyer's premium).
And more recently Logan Paul wore his copy around his neck for his ring walk to face Floyd "Money" Mayweather in their recent exhibition match.
For many, this is THE CARD to collect, and it's easy to see why.
What Makes the 1st Edition Shadowless Holographic Charizard so Rare?
Only 121 copies exist in a PSA 10

700 PSA 9's exist which show it's not an easy card to grade in a 10 either
Recent Sales
PSA 10 – $420,000 [

Source

] – March 22 sale smashing the previous record by $70k!

PSA 10 – $349,995 [

Source

]
3. 1998 Blastoise Commissioned Presentation Galaxy Star Hologram Card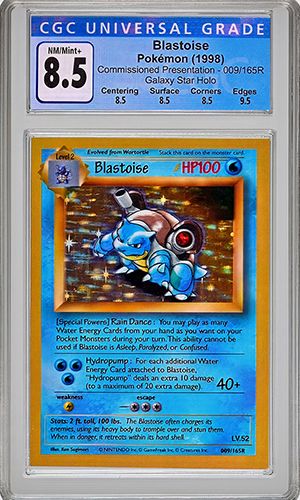 Now this card is an absolute gem! At first glance you'd think it wasn't real when you look at the font. But it is in fact an iconic piece of Pokemon history.
Backstory
This test printed Blastoise was used by the Wizards of the Coast team to help showcase to their higher ups at Nintendo, that they was capable of producing the English version of the TCG. Incredible right?!
What Makes the 1998 Presentation Blastoise Card So Rare?
Only 4 copies were every made!!

Three of the copies had 'Magic: The Gathering' backs to them as WOTC produced that TCG already

The other copy has a blank back
Recent Sales
4. 2017 Tsunekazu Ishihara GX Black Star Promo Card
This isn't the most beautiful Pokemon card you'll ever come across, but what it lacks in looks, it makes up for in rarity!
Backstory
We've got a lot to thank Pokemon founder and president Tsunekazu Ishihara for; he created the universe we all love to be a part of.
And on his 60th birthday, his staff had even more to be thankful for…each were given this promotional card to celebrate the man himself and as a thank you for their work.
What Makes the 2017 Tsunekazu Ishihara So Rare?
The fact that only staff were given this card, means it's extremely scarce and not many copies exist. But to stack a further level of rarity on top, a card signed by the man himself sold at auction for a whopping $247,230 – incredibly, it was only a PSA 7 as well!
Recent Sales
5. 1998 Kangaskhan Holo Family Event Trophy Card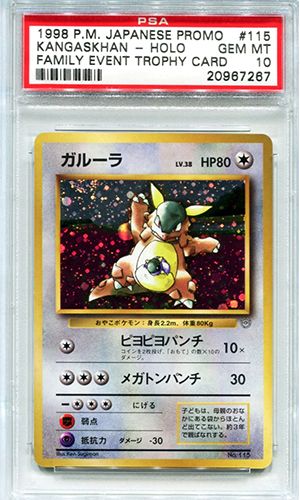 Next up we have one of the rarest Pokemon trophy cards in existence, and one of those 'holy grail' items for many vintage collectors.
Backstory
In Japan 1998 a Parent/Child Mega Battle Tournament was held for parents and children to team up and battle others.
Teams that reached a certain number of wins were awarded this trophy card.
By the way, to my fellow Pokeparents – how cool does that sound?! They should definitely bring that back!
What Makes the 1998 Kangaskhan Family Event Trophy Card So Rare?
Only 48 graded copies exist with PSA – of which 11 are PSA 10

Features the original

Pocket Monsters Trading Card Game

logo as a set symbol which is incredibly rare
Recent Sales
6. 2000 Pokemon Neo Genesis 1st Edition Holographic Lugia
Lugia is widely regarded as the most coveted second generation Pokemon.
This legendary bird is incredibly powerful, extremely difficult to catch and the poster boy of vintage classic Pokemon Silver on GameBoy.
Backstory
Lugia made its introduction into the TCG in the 2000 Neo Genesis set. However, early print runs are known to contain errors and imperfections.
You'd think Wizards of the Coast would have got the hang of things by now!
Anyway, because of this, it's extremely difficult for 1st Edition Holo Lugia to gain a high grade.
The popularity of this Pokemon, combined with low population of Gem Mint cards make it extremely valuable and expensive Pokémon card to buy.
What Makes the 1st Edition Neo Genesis Holo Lugia so Rare?
Only 43 PSA 10's exist, compared to 444 PSA 9's
Recent Sales
7. 2006 Pokémon World Championships Promo No. 2 Trainer
Up next we've got an incredibly rare Pokemon Trophy Card…
Backstory
In 2006, the Pokemon World Championships were held in Anaheim, California.
In order to even make it to the coveted tournament, players had to accumulate enough points to qualify, and then reach the finals of their respective divisions.
The small number of tournament winners were awarded with this beautifully designed 'No. 2 Trainer' card, featuring Pikachu raising the trophy.
What Makes the No. 2 Trainer Trophy Card so Rare?
Only 2 PSA graded copies exist

Trophy cards such as this represent the best Pokemon TCG players in the world, therefore are extremely sought after by collectors
Recent Sales
8. 1999 Super Secret Battle No. 1 Trainer
Not only does this next card represent reaching the TCG's pinnacle in its heyday, but the circumstances around it are just so damn cool too!
Backstory
Imagine this; Toyko, Japan 1999. There are regional Pokemon tournaments, where only the winners would go on to compete in the finals, which were held at a secret location!
I mean, that just sounds EPIC right?!
Well, this card was only awarded to the winners of each regional tournament. It's like a friggin' golden ticket to the Pokemon inner circle!
What Makes the 1999 Super Secret Battle No. 1 Trainer Card So Rare?
Although only seven regional tournaments took place, 8 graded copies exist in the

PSA registry

– meaning there must have been a few extras printed for backups

There are 6 PSA 10's and 2 PSA 9's

The card says

"The Pokémon Card Game Official Tournament's champion is recognized here, and this honor is praised. By presenting this card, you may gain preferential entry into the Secret Super Battle."

Features Mewtwo artwork by original artist Hideki Kazama
Recent Sales
9. 1998 Tamamushi University Magikarp Prize
There's something about how common Magikarp cards are, that when there's one that's actually very rare, it makes it extra special. And up next, is by far, the rarest Magikarp card in existence…
Backstory
Here's a card with a crazy story.
In 1998, Shogakukan Celadon University ran a campaign where pupils who enrolled, and completed a series of tests (printed in magazines) could become a Certified Pokemon Professor!
Students would mail their answers to the university grading department, and once everything had been marked, the top 1000 students became certified and were awarded this card.
What Makes The University Magikarp Card So Rare?
Recent Sales
10. 2005 Pokemon Japanese Play Promo 70,000 Pts Holo Gold Star Umbreon
You probably recognize Masakazu Fukuda's artwork, but did you know this version of the iconic Gold Star Umbreon is way rarer and more valuable?
In fact, it's one of the rarest Japanese Pokemon cards in existence…
Backstory
To be rewarded with this card, members of the Pokemon Player's Club needed to acquire at least 70,000 experience points after four seasons.
To put this in context, players started with 1,000 points, and only gained 100 points for attending an official event.
They could also gain points for hosting events, playing matches and attending tournaments, but the points acquired weren't exactly large hauls!
What Makes The Japanese 70,000 Pts Gold Star Umbreon so Rare?
The sheer difficulty of reaching 70,000 points

Only 24 graded copies exist at PSA, 17 of which are a PSA 10
Recent Sales
BGS 9.5 (Pop 2) – $70,000 [

Source

]
11. 1999 Japanese Promo Tropical Mega Battle Tropical Wind
Next we have another really rare Pokémon card, with an element of exclusivity that strongly adds to its appeal.
Backstory
The 1999 Tropical Mega Battle was a tournament consisting of 50 players that took place in Honolulu, Hawaii. The only way to enter… earn an invite!
That's right, only the best Pokemon trainers from their region were invited to take part in this exclusive tournament, with these beautifully unique Tropical Wind cards given as prizes.
What Makes the 1999 Tropical Wind Card So Rare?
Only 69 graded copies exist at PSA, with just 3 achieving a PSA 10 grade
Recent Sales
12. 2005 Japanese Summer Battle Road Mew Victory Orb Trophy
What do you get when you combine an extremely rare trophy card with a beautiful Mew artwork?
A very rare and valuable card, that's what!
Backstory
The 2005 Summer Battle Road tournament spanned many cities in Japan, to find the TCG's very best.
Again, like most tournaments, only the top three players from each age range were awarded a coveted trophy card.
Most trophy cards are very attractive, but luckily for 2005's participants, this card was extra special.
Featuring stunning holographic artwork by Takumi Akabane of Mew and the energy symbols, it's a real display piece which I'm sure will only continue to rise in value.
What Makes The Summer Battle Road Mew Victory Orb So Rare?
Recent Sales
PSA 10 in display case – $60,000

[Source

]
13. 1999 First Edition Shadowless Base Set Blastoise
Sticking with Base Set, let's talk about the big guy with water cannons on his back!
Backstory
We can't have a list discussing the rarest, most expensive cards ever sold without mentioning Base Set Blastoise!
Again, an extremely rare card in its 1st Edition Shadowless format.
Combined with the fact that it's a much-loved character, and the final evolution from fan-favourite starter, Squirtle, it's no surprise that collectors pay through the nose for this card.
People also like to collect the 'big 3' (Charizard, Blastoise & Venusaur) and display them as a set, so it's value will always be linked to the dizzying heights that Charizard sets.
What Makes 1st Edition Shadowless Base Set Blastoise so Rare?
Recent Sales
14. 1996 Pokemon Japanese Base Set No Rarity Symbol Venusaur (Autographed)
Next up, this absolute gem takes the crown for the rarest, most valuable Venusaur card in the world.
Backstory
"No Rarity Symbol" cards are the Japanese equivalent of 1st Edition.
As the name suggests, the first print run of Japanese Base Set cards didn't include a rarity symbol in the bottom right hand corner. Because of this, they are extremely rare and sought after.
What Makess The No Rarity Symbol Venusaur so Rare?
Only 5 PSA 10 copies exist

The most expensive one ever sold is signed by the artist Mitsuhiro Arita
Recent Sales
PSA 10 (Autographed) – $55,000 [

Source

]
15. 1999 Japanese Promo Tropical Mega Battle No. 2 Trainer
Trophy cards from Pokemon's heyday are always very desirable, but this card takes things to a whole new level!
Backstory
The 1999 Mega Battle Tourament was a big deal in Japan, with the winners from each player level invited to the finals in Hawaii.
Only the best of the best TCG players from each region were awarded this beautiful Exeggutor trophy card, a design quite fitting to the location might I add!
Makes me want to crack out my Southern Islands set come to think of it!
Anyway, what we have here is the No. 2 Trainer trophy card, a timeless collectors item, where in fact only 6 graded copies exist.
What Makes The Tropical Mega Battle No. 2 Trainer Card So Rare?
2 PSA 10's exist and 9 PSA exist

The only card that was sold in recent years wasn't in good enough condition to receive a grade (mostly because of fading), but it still went for a whopping…
Recent Sales
PSA AUTHENTIC – $50,300 [

Source

]
Imagine what a PSA 9 or 10 would sell for!!!
16. 2004 Team Rocket Returns Gold Star Torchic
Next up we've got a card that fetches an incredibly high price at auction.
To the untrained eye, it might not look like anything out of the ordinary, but to seasoned collectors and people in the know (such as yourself now), it's an absolute gem.
Backstory
In the post-WOTC era, Pokemon needed to reignite collectors back to the hobby.
In the wildly underrated Team Rocket Returns set, it introduced three special Gold Star Cards – Mudkip, Treecko and the cute, but fiery Torchic.
They had a considerably lower print run than the main cards in the set, and were therefore, incredibly hard to pull.
What Makes Gold Star Torchic so Rare?
Only 17 PSA 10s exist, compared to 38 for Mudkip and 44 for Treecko

The artwork is beautiful and the gold star next to its name adds to the rarity

The Team Rocket Returns set has gained much appreciation in the last few years – sealed product is hard to find, so it's very unlikely the PSA pops will increase greatly in the future
Recent Sales
17. 2005 EX Deoxys Gold Star Holo Rayquaza
Next up let's discuss a very special card from the Ruby & Sapphire era.
Backstory
As Pokemon generations evolve, iconic characters make their way to the forefront of the TCG, with their chase cards exploding in value over time.
This is very much the case for the Gold Star Rayquaza from EX Deoxys.
With gold star cards rumoured to have a pull rate of just one-in-two boxes, and there being two other gold star cards in the Deoxys set (Latios and Latias), in theory the pull rates of Rayquaza were 1 in 6 boxes.
If you think that isn't too bad for such a valuable card, remember, we're talking about Pokemon in 2005 here, where demand had waned, and print runs were a lot less substantial.
In the years that have passed, only 643 cards have made their way to PSA and with sealed booster boxes fetch up to $60k [Source].
This number probably isn't going to be changing a lot, even with vintage booster packs being opened on YouTube more and more these days!
What Makes Gold Star Rayquaza So Rare?
Only 47 PSA 10's exist

Masakazu Fukuda's stunning artwork is a real display piece, with Rayquaza almost jumping off the card
Recent Sales
18. 1999 First Edition Shadowless Base Set Chansey
Next to a card you're probably well aware of, but perhaps not how rare a mint condition version is!
Backstory
Base Set Chansey is of course one of the first sixteen holographic cards from 1999's Base Set. Card number 3/102 in fact.
More interestingly, because of the beautifully clear white holographic background, it's very easy to see printing imperfections or scratches.
Therefore this is an incredibly tricky card to grade.
In fact, it has the lowest PSA 10 population (compared to other Base Set holos) in its 1st Edition, Shadowless and Unlimited format.
This means, Chansey is in fact the rarest first edition Base Set card there is and well-worthy of a place on our list.
What Makes 1st Edition Shadowless Base Set Chansey so Rare?
Recent Sales
19. 2010 Daisuki Club 8,600 Pts Master Scroll Holographic
Up next we have one of the rarest and most sought after Japanese Promo cards there is.
Backstory
The Pokemon Daisuki Club is the Japanese equivalent of The Pokemon Trainer Club.
It's a big deal in Japan!
Anyway, in 2010, they held a competition where fans could sign up, carry out various game related activities and earn points.
These in turn could be exchanged for prizes, the top one of course being the coveted Holographic Master Scroll card.
8,600 points was incredibly difficult to achieve, hence why the card is so darn rare and valuable.
The holographic border and scroll make it such a visually beautiful card to appreciate.
The scroll also has connotations to the idea of obtaining the 'holy grail' – with 'grail card' a commonly used term in the hobby.
Overall, it's easy to see why this card is so desirable for collectors.
What Makes The Daisuki Club Master Scroll so Rare?
Only 57 graded copies exist – 26 of which are a PSA 10
Recent Sales
20. 2006 EX Dragon Frontiers Gold Star Charizard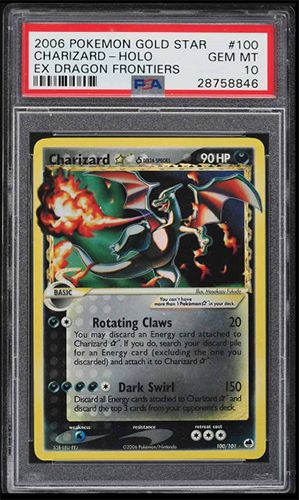 Let's check out the most valuable Charizard from the EX Ruby & Sapphire Era!
Backstory
From their introduction in the 2004 Team Rocket Returns set, Gold Star chase cards proved to be a great success in drawing collectors back to the hobby in the post Wizards of The Coast years.
We had to wait two years for Charizard to make an appearance, but when he finally did, we got one hell of a collectible out of it – the iconic Gold Star Charizard card.
There are many layers to the artwork, from the eye-catching fire popping out of the graphic window, to the deeper Charizard image highlighted in shades of black and green.
To top it off we've got the subtly stunning gold star next to his name. There really is no other card like it.
What Makes Gold Star Charizard so Rare?
Only 95 PSA 10's exist

Gold Star cards have that added level of rarity, with lower print runs

This card contributed a lot to keeping intrigue in the hobby
Recent Sales
21. 2003 Skyridge Holographic Crystal Charizard
Next we move to an absolutely stunning Charizard card that collectors love.
Backstory
In 2003, the relationship between Wizards of the Coast and Nintendo had broken down. As such, we saw the last set of the 'WOTC Era' which was named Skyridge.
With interest in Pokemon cards dwindling, printing of the set was in no way on par with the levels of previous years.
Limited supply I hear you say?!
But Wizards really went out with a bang, and created six 'Crystal' cards at the end of the set, which were of course the rarest and hardest to pull.
They were: Celebi, Crobat, Golem, Ho-oh, Kabutpos and finally everyone's favourite Charizard.
This combination of factors, make Crystal Charizard an absolute gem of a card, and very valuable too.
What Makes Crystal Charizard so Rare?
Only 701 graded copies exist overall

211 of which are a PSA 10

It's the last WOTC Era Charizard
Recent Sales
22. 2010 Pokemon Master's Key
Next we have a stunning Japanese trophy card that is highly sought after among collectors.
Backstory
This card was awarded to to winners of the 2010 Pokemon World Championships, which were held in Hawaii.
Participants from both the TCG and video game tournaments that finished high enough were given this card, which was presented in the smart frame you see above.
What Makes The 2010 Pokemon Master's Key Card So Rare?
Only 36 copies were awarded
Recent Sales
Framed Copy – $21,201 [

Source

]
23. 2016 20th Anniversay 24k Gold Ginza Tanaka Japanese Pikachu
This next one on our list takes gold cards to a whole new level!
Backstory
The Pokemon Company love a good collaboration!
To commemorate the brand's 20th Anniversary, they teamed up with famous Japanese jeweller Ginza Tanaka, to create a 24 Karat gold Japanese Base Set Pikachu card.
What Makes The Ginza Tanaka 24k Gold Pikachu so Rare?
There was a limited pre-order window of only 20 days

It had an initial price tag of approximately $2,100
Recent Sales
24. Pokemon 25th Anniversary Celebrity Collaborator Cards
You're either going to love or hate these next cards!
And as a collector, they may be completely undesirable to you – but it doesn't make them any less rare.
What I'm referring to are the Celebrity Collaborator Cards of Post Malone, Katy Perry and J Blavin.
Backstory
All three artists played a big role in the entertainment side of Pokemon's hugely successful 25th Anniversary.
As such, they were given a unique copy of their own Pokemon card – pretty awesome for them, right!
Only one Post Malone V, Katy Perry V and J Balvin V card exists, and there's very little chance these artists will ever let them go!
25. *1999 Prerelease Raichu
I've purposely left this card to the end of my list…
So, some Pokemon cards are so rare, that we're not even sure they ever existed!
This can be said for Prerelease Raichu…
Backstory
Rumour has it, that during the manufacture of Prerelease Clefable, a sheet of Raichu cards were stamped with the PRERELEASE symbol.
There are 10 cards per sheet, hence it's believed (by some) that 10 copies exist.
Wizards of the Coast always denied this event occurred, but in 2006 a staff member shared a very convincing image of the card (above).
Despite rumours of a sale that happen to coincide with April Fools Day, to this day, there have been no confirmed sighting of Prerelease Raichu in the wild.
So is this the rarest Pokemon card of all time – or just a myth? Hopefully, one day we find out!
So There You Have It!
There rarest Pokemon cards, fetching the biggest price tags!
Want more like this? Check out my list of the most valuable 1st Edition Pokemon cards here!
Last updated June 13, 2022