Need to buy a gift for that Pokémon obsessed loved-one in your life?
You're in the right place!
In this article I'm going to share with you my top recommended Pokémon card gifts that the recipient is sure to LOVE!
1. Sealed Pokemon Cards Booster Box
View this post on Instagram
Pokemon cards are arguably more popular now than in 1999! So what better gift to give than an entire booster box of the latest set?
Not only is it really fun to open packs together, but there's also good value to be had always if the "pulls" are good. Win, win!
For help deciding, here's my articles on the best Pokemon booster boxes to buy this year!
2. Graded Pokemon Card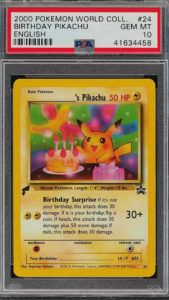 Doubling as a gift and an investment piece, buying your loved one a graded Pokemon card is a really special way to treat them.
If it's a birthday, my top pick would be a graded Birthday Pikachu card. This is a real collectors item and also super relevant!
3. Personalised Pokemon Card
Now this is really cool, and something I did for my son's 5th birthday.
There are some awesome sellers on Etsy that will create custom Pokemon card for you based off a photo!
Some sellers will insert the photo right into the card, and others can even create a bespoke anime character for you!
What a meaningful way to do something different, and that doesn't break the bank either.
4. Miniature Pokemon Card Keyring
View this post on Instagram
I absolutely love these miniature Pokemon card keyrings – the attention to detail is top notch!
Okay, it wouldn't be the main gift, but what a fun little supplementary goodie to include.
Any Pokemon fan, myself included, would be proud to show off these neat little cards on their keyring.
5. Pokemon Card Mystery Box
Now these are REALLY fun!
On eBay, you can find some great sellers who piece together well though-out mystery boxes.
They often included sealed packs, custom boosters, rare cards, Poke Coins and sometimes even graded cards. Obviously the content of the box will be relevant to the amount you spend.
What might also be a nice idea is to contact one of these sellers beforehand, and ask them to put together a bespoke mystery box based on your loved-ones favourite Pokemon – that way you'll know that'll absolutely love it!
6. Graded Pokemon Card Displays
If your loved one has a solid collection of graded Pokemon cards, you might want to consider getting them a display piece to show off their cards.
Here are two of my favourite options:
View this post on Instagram
You can buy this neat graded card holder here.
You can buy this stylish wall display here.
7. Pack Opening on a YouTube Channel
So this one is a lot of fun!
You could buy your loved one a pack to be opened up on a famous Pokemon YouTuber's channel!
It's quite a thrill tuning in, and seeing if you get anything good!
In the past I've bought packs to be opened on PokeRev's channel is. He has a huge audience, great boxes to open and he's well respected and trusted in the community to ship the cards to you safely afterwards.
Below is a screenshot of my pack being opened on his channel!
So there you have it!
Hopefully this article has given you a little inspiration and some unique Pokemon gift ideas!
Thanks for reading 😀
Last updated June 13, 2022